The fact that there are cool and unique things to do in the area certainly does the trick when it comes to attracting people from around the world to the Bow Valley. Beyond that, there are some pretty cool places to work. There are many unique employment opportunities throughout the Bow Valley, from ski resorts and adventure operators to golf courses and tourist attractions. You can even get the full spectrum of local work experience by participating in seasonal work to try something new when the seasons change.
We are passionate about getting to know the people that have travelled from around the world to call the Bow Valley home. We spoke with Kirsten Clare to learn more about her background and life in the Bow Valley. Kirsten is the Food & Beverage manager at Stewart Creek Golf & Country Club, and she also teaches spin classes at Rock Cycle & Studio in Canmore.
"This will be my 9th year with Stewart Creek. It's a great place to work in the valley with an awesome year-round team. Our members and guests are some of the best!" Kristen told us. After a couple of years of working seasonally at Stewart Creek, Kristen's position is now year-round. "The summers are great too because we are always getting new staff from all over Canada and the world. The golf course itself is a beautiful environment to be in on a daily basis," she explained.
Kristen has been in the Bow Valley since 2013. She's originally from South Africa. "I came to ski instruct for a season," Kristen told us, but she ended up instructing for six seasons full-time. Like many others who have landed in the area with plans to stay for a short time, the Bow Valley soon became home for Kirsten.
She attended University in Australia and earned a Mass Communication & Public Relationships degree. She then worked in customer relations and marketing for a few years before moving to Canada. "I came over to instruct skiing and got a job working a summer at Stewart creek, where I still work today," she told us.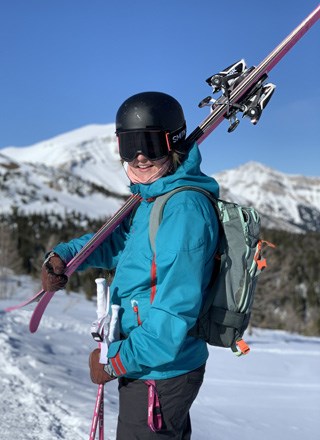 She told us that "Canmore itself" made her want to stay for the long term. "I fell in love with this town and what it has to offer, like the outdoor mountain lifestyle and the changing seasons," she reflected. "It was so different from what I knew living in South Africa and Australia, but I quickly felt at home here. I enjoyed my different seasonal jobs, and how it wasn't Monday to Friday, nine to five." Kirsten also noted that her "friends who are like family" and her job are big reasons she feels so at home here.
"It feels like a permanent holiday here," she said. "There are so many cool trails right on your doorstep. The number of activities is endless, so there is always something fun and exciting to do." She loves biking, hiking, paddling, golfing, skiing, and many other activities that can be found in the Bow Valley's local terrain.
"The community is also so cool. Everyone is very open-minded and always up for something. I enjoy how lots of people in the Bow Valley are from all over Canada and the world, so you are always meeting new people and learning new things. You also live in a postcard, and everyone always wants to come to visit," Kirsten shared, speaking to why she loves this place so much.
Kirsten has Perminate Residency in Canada and plans to apply for citizenship soon. She says her process wasn't too bad, but it was costly. If you need support in applying for your PR or citizenship, professionals are available to support you.

This story was made possible by our
Community Partners Program
. Thank you
Foothills Immigration Inc.
for helping to expand local news coverage in the Bow Valley.
Learn more.