For the past few months, we've been throwing the spotlight on countless incredible Bow Valley residents who have come from all over the world to call this magical platform home. We know that people feel incredibly lucky to be able to call this place home, but that sentiment is echoed in how lucky we feel to welcome them to our community as neighbours and friends.
For this article, we had the pleasure of getting to know more about Basma Doubaji, who some of you may know as Hope (her nickname). Hope is a 38-year-old mother of two. Her 8-year-old daughter, Hiba, lives with her here in Canmore, and her 7-year-old son lives with his father in Morocco. "I am a full-time restaurant manager at Murrieta's Bar & Grill Canmore, and I am a dance performer at the Balkan Restaurant in Banff," Hope told us.
She explained that she's been at Murrieta's for three years, having started as a chef because her work permit was especially for a chef position. "When I got my permanent residency, so many doors opened, I had so many job offers," she reflected, "one of those offers was Assistant General Manager of Murrieta's Bar & Grill," Hope said it was an obvious choice because she'd been there for years and she is treated so well.
"My boss is so good to me, I have a lot of support. My Boss gives me the day shifts not the Night Shift to be able to do all the after-school activities with my daughter, Monday and Wednesday she got gymnastics, Tuesday cross country skiing with the jackrabbits, Thursday Karate and Saturday Swimming. Also, English is my 4th language (Moroccan mother tongue, Arabic, French), and he always takes the time to explain things and make sure I get the information right," she told us.
Basma has been in Canmor since 2017. She tells us that she didn't choose the Bow Valley, but rather, the Bow Valley chose her. "When I decided to move to Canada my first interview was with a company in Canmore," she reflected.
"I consider myself so lucky to come to this beautiful part of the world, I love my sunrise and sunset walks. I'm so grateful to live here surrounded by mountains and so many trails," said Hope. She said she loves the plethora of activities she's able to easily enjoy just outside her door, as well as the community. "I did get a lot of support when I needed it, and i will never forget that," she said.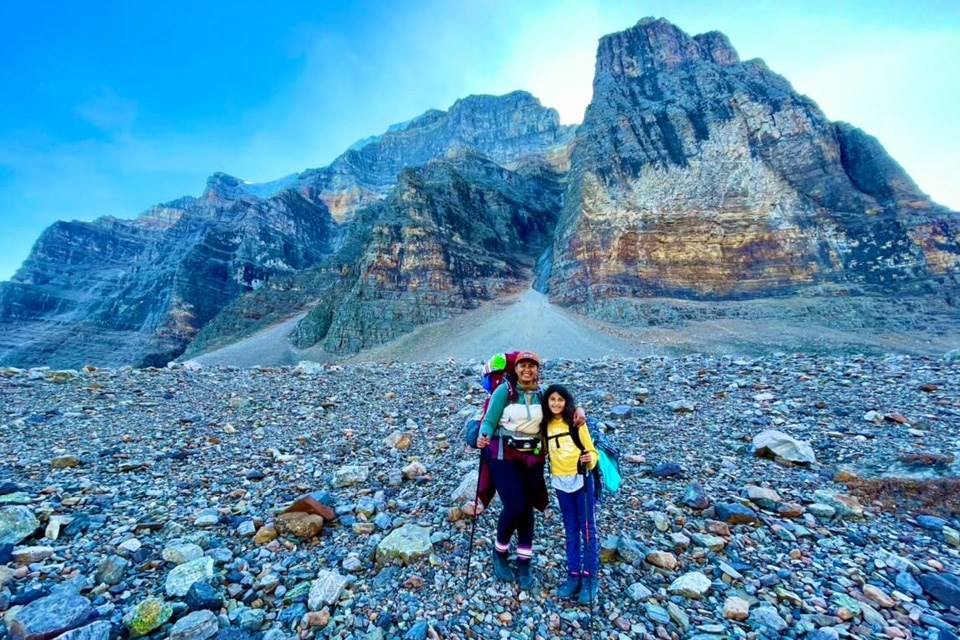 Looking back at Hope's background, she originally went to university of Applied Mathematics, then she totally changed her field and went into hospitality and tourism management school and got her Red Seal as a chef. She also went to Disney University for Food and Beverage. "I did work in so many jobs before, the highlight is working in club Med in Morocco as a chef and working in Walt Disney World as a food and beverage supervisor," Hope shared.
Reflecting on her path to permanent residency, Hope's journey was long and complex. In dealing with immigration for both her and her daughter, it took her 4 years to get perminate residency. She noted that she received a lot of help from our community and her workplace along the way and that, while challenging, it was absolutely worth it.
"Moving to Canada is not easy, especially for a single mom like me. Applying for permanent residency was stressful, complicated and meant that I was living in uncertainty for so many years. But it was so worth it. I'm, so grateful to be in this beautiful part of the world and call it Home. Here I feel safe and loved. Here I feel home. I love Canada, my heart is warm and I'm forever grateful for all the love and support of all the beautiful souls in my life and all the opportunities that life brought me here in the Bow Valley."
Hope and Hiba love hiking, camping, kayaking, biking, and backpacking. "Hiba loved the backcountry, our highlight was lake O'Hara. We did hike up, no shuttle, stay for 3 nights in Elizabeth Parker hut then hike down. It was an amazing experience for us to spend time together."

This story was made possible by our
Community Partners Program
. Thank you
Foothills Immigration Inc.
for helping to expand local news coverage in the Bow Valley.
Learn more.