Growing up, Ariel Hill never saw being an artist as a viable profession.
However, in the last 10 years, she has carved out a path.
Originally from Ontario, Hill first went to school for photography and then journalism. After the death of her father, she moved out west.
"I loved being out west when I visited, so I thought that would be a good place to heal and figure out who I was without that figure in my life," says Hill. "I spent a lot of time just working and travelling, then I decided when it was time to go back to school."
Hill's father was a silversmith when she was young.
"He always told me if I ever wanted to do that, he could set me up with a jewelry maker and I could apprentice with them," says Hill. "That seemed like too big of a commitment to start apprenticing with a jeweller when you're a teenager. I took a few years away from it, but I knew it was my first passion."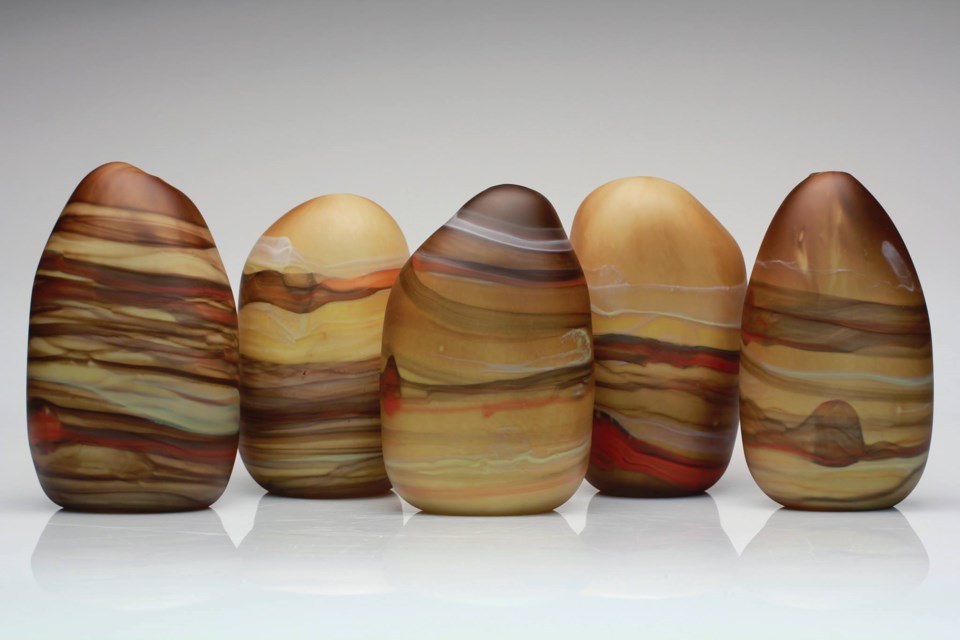 After moving west, she attended the Kootenay School of the Arts in Nelson, B.C. for jewelry. She moved back to Banff and decided to get her bachelor of fine arts. She went to ACAD, now Alberta University of the Arts, originally for jewelry until she took a class in glassblowing and changed her major.
"My father was one of the first people to encourage me to pursue whatever path I wanted and it didn't matter if it didn't seem professional enough for "society" he was very accepting," says Hill, who has found her calling in glassblowing.
Hill finds a lot of crossover between jewelry making and glass blowing.
"Your hand skills have to be really on point, but also elements of heat that play a role in both mediums, and then being able to depict visual information and recreate it in a 3D form instead of just painting or taking a photograph," says Hill. "You actually have to recreate that landscape or that object in a form that's in the round to be experienced by the viewer."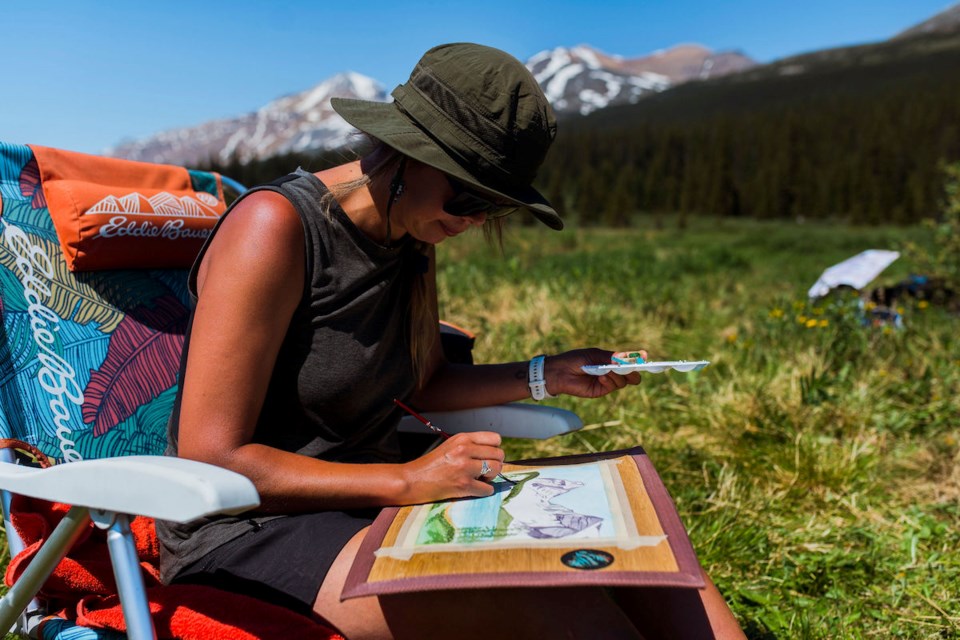 Hill isn't necessarily a production-based glass artist. Her favourite pieces reflect her experience of nature.
"I connect with nature through being on the land – camping or being out on the water, hiking, mountain biking, skiing, anything that takes me outside and immerses me in those landscapes. This is how I draw my inspiration. It's not just visual information, but taking a moment to reflect on how I'm feeling in that space. This also goes into the work. It's a combination of visual information and emotional connection to the land."
As an Indigenous person and an artist, Hill's culture is always going to be a part of her work.
"On the jewelry side, there are some design elements that I definitely pull from, that have an Indigenous aesthetic," says Hill. "As for the glass blowing, it's the teachings and the appreciation for nature that are most apparent in my work. There isn't always a direct correlation between traditional Indigenous craft and my art, but there are underlying meanings and or the connection to nature, which is where the Indigenous element comes from."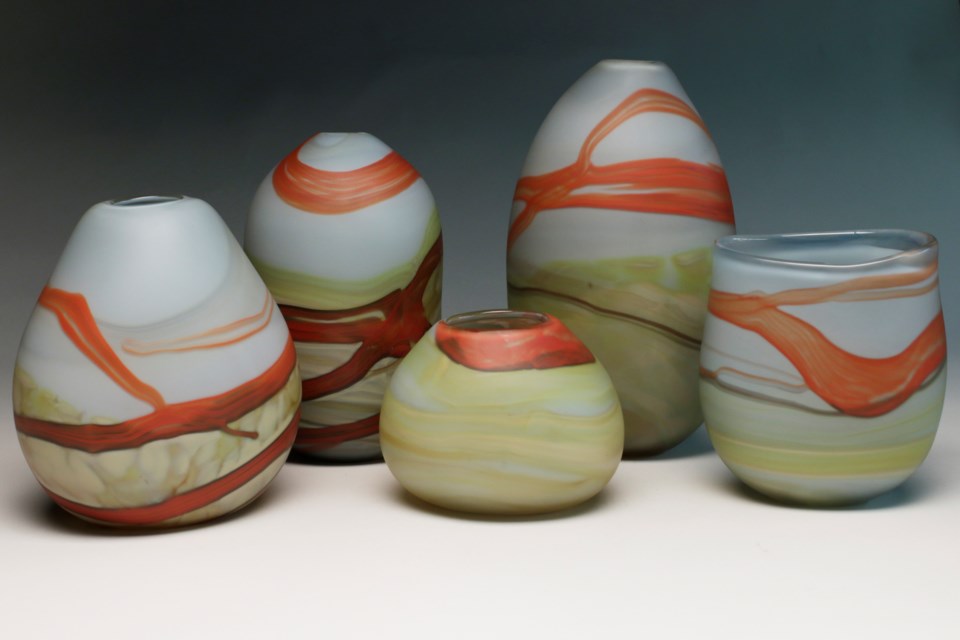 Hill has a strong curiosity for geological formations and the elements that make up stones, finding the deeper root of why and how stones are in the form she finds them.
"The first stone I was truly obsessed with is a stone called Owyhee Jasper," says Hill." It is this canyon on the Idaho Oregon border, and it creates this stone that looks like a painting. It's a type of picture Jasper. The fact that a little stone contained so much visual information and then looking into it and realizing the reason why they're brown or light sand coloured with little cracks of red are because of sediment that was placed there over millions of years. And then the darker part of the stone, which represents the sky, was also a different mineral deposit that was placed there by the way water moves through the canyon and deposited these mineral deposits."
When Hill finds interest in a specific stone, it opens up a new realm of inspiration for her and she is then able to recreate it.
"That is where jewelry connects to my glass work," says Hill. 'It's where I became interested in those materials as inspiration. Once I became a glass artist, it took me years till I was skilled enough to be able to recreate that visual information in my work"
For Rockies Repeat, the recent film and upcoming exhibition at the Whyte Museum, Hill uses glacier landscapes as her inspiration.
"Part of the work that I'm conceptualizing right now is a return to Indigenous teachings, but also of honouring the land," says Hill.
Some of her newer series dives into other elements like moss, trees, and different flora and fauna.
"I'm hoping to hone in on a few different elements that I see frequently in my day-to-day on the land," says Hill.
Whatever inspiration Hill gains, it is undeniable that her work is ethereal, captivating and thought provoking – sometimes solely in the sense of the actual process.
"Glassblowing is a unique art form in that it demands so much from you physically," says Hill. "When it comes to the heat it is probably uncomfortable for most and tolerable for us as artists. It is more enjoyable in the fall and winter months. In the summer months, it's still doable. You just have to stay hydrated and take breaks when you need to. It's definitely a challenging environment to work in at times.
"I'm still learning every time I go into the hot shop. It's a very humbling medium."
To learn more about Ariel K Hill, visit https://arielkhillstudios.wixsite.com/akhglass.