Rachael Rodgers is an artist, photographer and outdoor nature lover that uses her camera skills to showcase the personalities of adoptable dogs. Through Trails and Bears, she also helps adoptable dogs enjoy outdoor adventures.
"Photographing dogs the way I love to (close-up and character-divulging) requires open communication, trust, and fun. To go from strangers to a point where I can get that photo is a quick journey to an odd friendship. The dogs may say otherwise, but I think we become friends during the photo taking process!" says Rodgers.
She describes the steps required in going to shelters to take dogs out for adventures and photographs.
"I am signed on as a volunteer at several rescues; most are over an hour drive away, but I have contacts who will let me know when there is a dog who has been there too long or who may have a small pool of potential adopters for whatever reason (medical needs, reactivity, size, character quirks, unfashionable coat etc.). Sometimes I go to the shelters to pick them up and sometimes they hitch a ride with someone coming in my direction. A lot of rescues are great at networking with volunteer drivers, which makes the logistics of adoption adventures possible on days it may not otherwise be feasible. This process is different with every shelter."
To date she has taken photos of more than 295 dogs.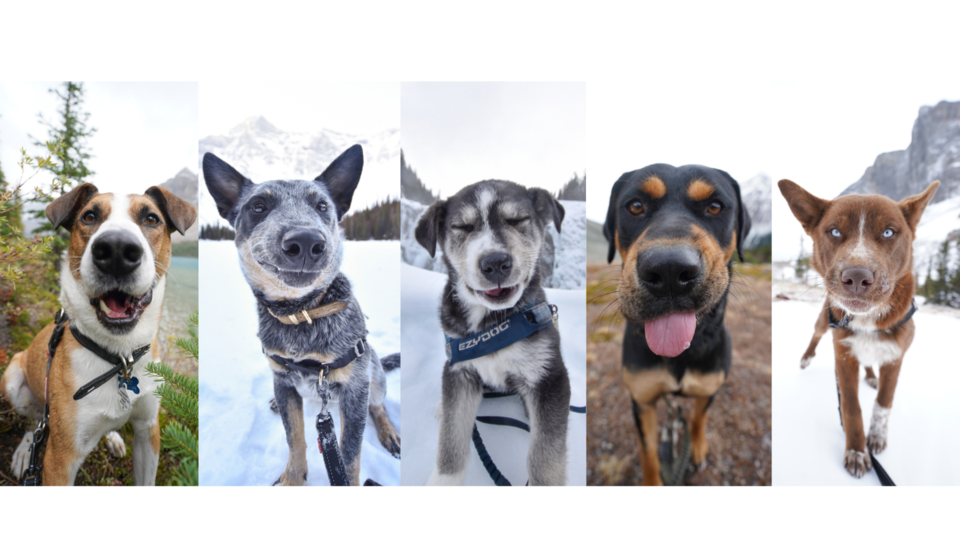 "The only limitation on ways to help animals in shelters is one's imagination," Rodgers shares. "Everyone has something to offer. People do amazing things that I would never think of and that's the beauty of many minds thinking differently. I've seen classes go to shelters and read to animals, I've seen a woman bring a chair and sit with dogs in their kennels for company, I've seen a woodworker make a beautiful door for a shelter, some people help drive animals to and from vet appointments, and fostering is a great way to help while also getting to hang out with animals. Also, volunteer dog walking increases quality of life for animals without foster homes."
She has some tips online for adventuring with foster pups. "There are lots of easy precautions I take to help mitigate the inherent risks of taking a strange dog into the wilderness for the day. I wrote a free guide for using social media to help dogs find homes that includes tips for both the adventure and the online posting for anyone interested." She also has a book for sale with more details on her website.
Rodgers concludes, "My favourite part of the process happens long after the dog probably forgets me and that strange day. It's when I open my Instagram and see continual photo and video updates of the once homeless dogs I know, now living their happy lives with their forever families and friends. For every weirdo dog looking for a home, there's a weirdo human out there who would love to have them!"