Sprucing up the outside of your home and elevating your curb appeal can happen at any time, not just if you're trying to sell! It's your home and you want to be charmed each time you pull into that driveway. If you're ready for a change but you're not sure where to start, don't you worry. We've rounded up a list of affordable ways to make the outside of your house a little bit more beautiful. You don't have to break the bank to elevate your home's curb appeal.
Paint the Door
The door is the centrepiece to the entire front of your home. Giving your entryway door a new coat of paint or – if you're feeling bold – a whole new colour, can really change the entire appearance of the outside of your home. This is a simple project that is budget-friendly and it can even be fun to do!
Window Boxes
If you're not interested in planting an entire garden or your local climate doesn't allow it, invite some blooms to the front of your home by adding some window boxes. Window boxes add something sweet without requiring any serious landscaping.
Creative House Numbers
Another thing that can really make your home stand out is some creative house numbers. Pick something that matches your aesthetic while still standing out. If you're looking to make your exterior a little more modern, go big and sleek, if you're looking for something cozier and inviting, get crafty and go for a very DIY look. A simple and fun project that you get to show off 24/7!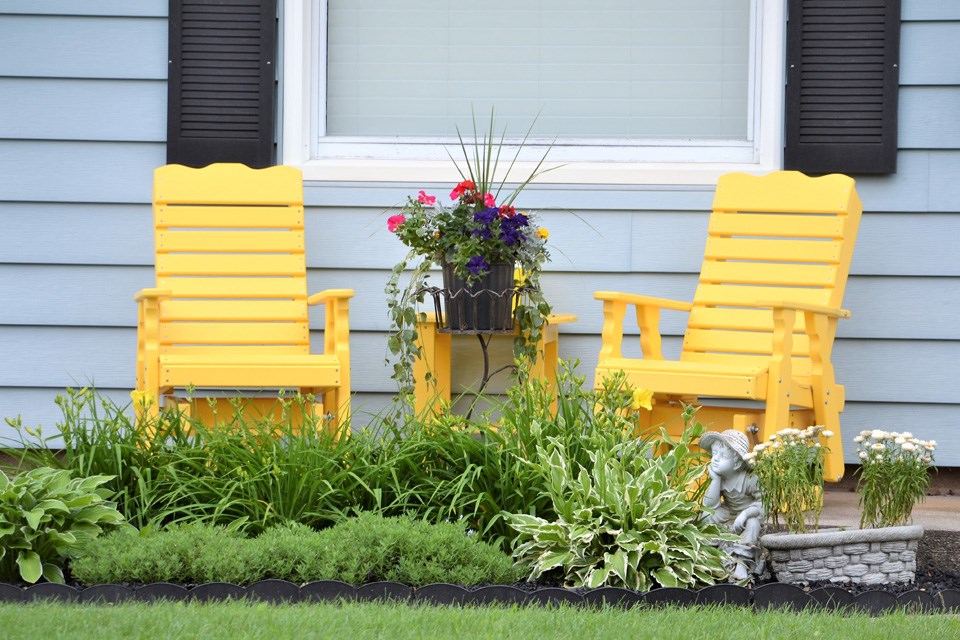 Update the Lighting
Light changes everything. You can look to lights on either side of your entryway door or even along your walkway to instantly make your home more trendy and welcoming. Buy or upcycle some affordable fixtures or make your own.
Decorate the Stoop
Outdoor decor is so underrated. If you find something like a vintage ladder or trunk at your local thrift store, it might be the perfect addition to your stoop. Other things like outdoor art and accent furniture pull a place together.
Simple Front Porch Furniture
Patio furniture can be extremely expensive, but this is more the case for your outdoor living space. It's less common for people to lounge on their front porches on account of the limited privacy, so consider placing just one or two cute chairs or a single bench out front to liven up the space.
A Gate or Arbour
Rather than elevating the door, you can step back even further and elevate the actual entrance to your property. Consider building or building a unique gate or arbour for your guests to enter through.
Pressure Wash
You may not even need anything new to level up your property! Rent a pressure washer and give your driveway, sidewalk, and home exterior a good spring cleaning. The place will look brand new!

This story was made possible by our
Community Partners Program
. Thank you
Peak Performance Painting
for helping to expand local news coverage in the Bow Valley.
Learn more.