If you've ever stayed, dined, or grabbed a drink in the Bow Valley, you've probably noticed that a significant portion of the local workforce isn't Canadian. It's incredible to learn how far people have travelled to live and work in the Bow Valley. In fact, Andrew Shepherd, General Manager of The Malcolm Hotel, told us that up to 70 of the Malcolm's team members are from other countries. Of about 160-180 staff members, that's a pretty substantial portion!
"We find that the hospitality industry as a whole is enriched by experiences that all of our diverse team members bring to The Malcolm each and every day," said Andrew. "By having over forty countries represented, everybody collaborates the best practices from all over the world, and we are able to deliver a product that is truly memorable." He also noted that the hospitality industry is unique because it is a career that requires multiple skillsets. "It is definitely a career with multiple areas of skills that can be transferred to so many different areas, all while visiting some of the best places in the world, such as the Bow Valley."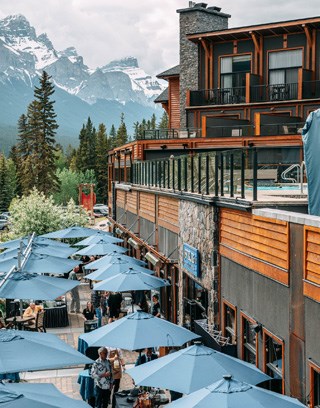 If you're unfamiliar with The Malcolm, it is a gorgeous hotel in Canmore's prime, central location. The inside is almost as beautiful as the natural terrain that surrounds it. With an incredible restaurant and lounge, a rooftop pool, and a lounge patio facing the creek, you really can't go wrong with a visit to the Malcolm. Oh, and the staff will make your experience go from amazing to unforgettable.
"Having a diverse team is one of our most important advantages in the Bow Valley. Many of our international team members bring unique skill sets which often leave lasting impressions on our guests, as well as our staff," Andrew told us.
The Malcolm is a community in and of itself, but it also belongs to the community of Spring Creek, the community of Canmore, and the Bow Valley at large. "The Bow Valley represents so much to everyone who visits for a moment or a lifetime, and the community spirit that Spring Creek provides is an amazing thing to be a part of. From the various events, Block parties to Soup for the Soul, the spirit of comradery and supporting others is vibrant in all aspects throughout our valley," Andrew shared.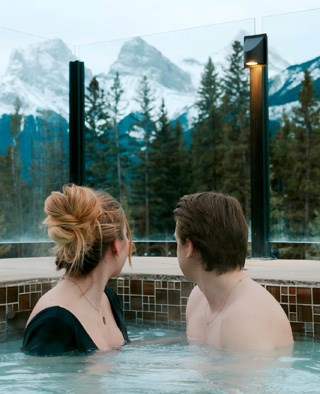 He told us that they work hard to ensure their staff can have flexible schedules so they can make the most of life here in the beautiful Rocky Mountains. "The rugged serenity that nurtures every single one of us here in Canmore/Kananaskis is something that most people see in pictures, but they can't fully comprehend that it is more than what a photo can portray," he told us. "Being able to work and then live outside in this place of wonderous beauty where varying levels of adventure await you around every corner is something that many parts of the world, simply do not have."
When you visit or stay at the Malcolm, you can expect best-in-class service and care. "Our team at the Malcolm Hotel is a very diverse and passionate group of individuals that function at a very high level while at work and know how to nurture themselves while on their time away from the property," said Andrew. "We always ask ourselves, what would we expect if we were staying at a place as beautiful as the Malcolm and in a place as memorable as Canmore. This expectation leads us to provide the service that we are becoming known for, and it is what will ensure we will continue to grow in the community that we are proud of."

This story was made possible by our
Community Partners Program
. Thank you
Foothills Immigration Inc.
for helping to expand local news coverage in the Bow Valley.
Learn more.