It's certainly no secret why people travel from around the world to visit Lake Louise. This place is truly a wonder, from the bright turquoise lakes in the summer to the golden larch trees in the winter.
If you're planning a trip to lake Louise and need help figuring out where to begin, this bucket list should help. We've rounded up some of the most popular things to do in Lake Louise. While they're likely to be busy, you better believe they're busy for a reason and completely worth the hustle and bustle. So, what are you waiting for? Book those trips to Lake Louise!
Paddle The Lake
One of the more iconic things you can do in Lake Louise is to get on Lake Louise! The water is just as vibrant in person as in the pictures. You'll want to get as close as possible! You can rent a canoe with your significant other or travel companion. It's an excellent, relaxing way to see the lake from a new angle and a lot of fun. Lake Louise has no public boat launch, so renting is your best option.
Lake Agnes Tea House
Another absolute must is hiking up to the Lake Agnes Tea House. The hike is 7 km return, with Lake Louise as your starting point. It's moderate difficulty, and while the trail is smooth, it's a bit of a climb. Once you get to the Tea House, you will be met with a gorgeous, sparkling lake, incredible views of the valley below, and an adorable tea house where you can warm up with a hot beverage and a snack. This is the perfect little hike to get you moving without taking up an entire day. It usually takes one to two hours, depending on how long you stop at the top.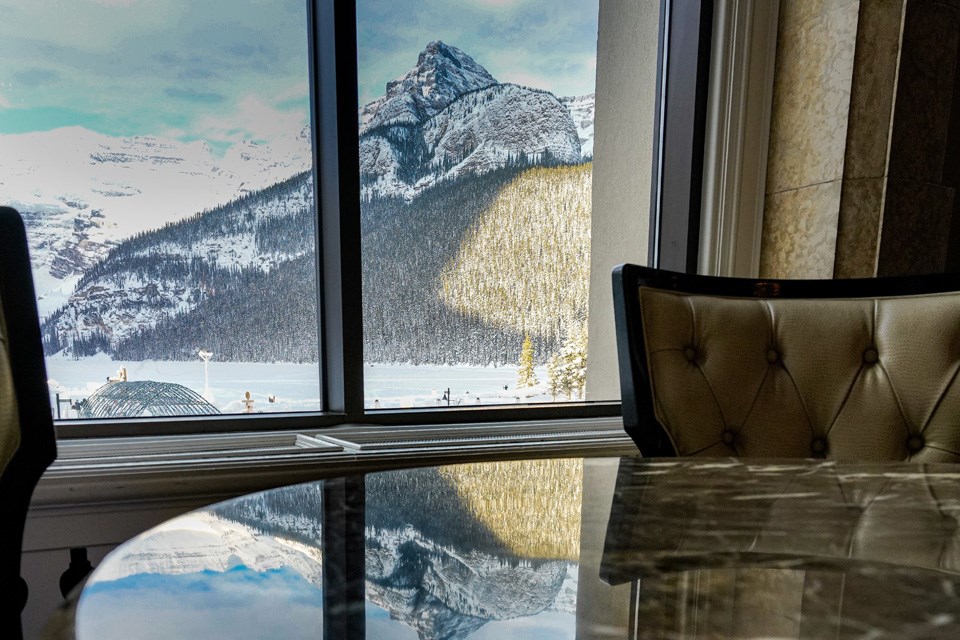 Lunch at the Fairmont
If you don't feel like splurging for a stay at the iconic Fairmont Chateau Lake Louise, you should treat yourself to lunch at the hotel. The place is huge, endlessly majestic, and a destination in its own right. With unbeatable views and so much historic class, you'll love it.
The Lake Louise Lakeshore Walk
If you're in a walking mood but not into the idea of a big elevation gain, this is the perfect option. The 4.5 km out-and-back trail takes you along the lake for spectacular views. The trail is open year-round and highly populated, so the snow will likely be stamped down in the winter and easy to navigate. Regardless, checking conditions before you head out is always a good idea!
Skate On The Lake
This place is the definition of a winter wonderland during the colder months, especially around the holidays. A skating rink is cleared out, and you can glide around on the frozen water while surrounded by snow-topped mountains. We suggest going on a bluebird day to get the full experience!
Hike to Larch Valley
If you're interested in a longer hike and visiting in the fall, we highly suggest checking out Larch Valley. In the fall, the larch trees turn vibrantly gold, and it's truly a sight you need to see to believe. If you love an autumn hike, you better ensure some golden larch trees are on the agenda.

This story was made possible by our
Community Partners Program
. Thank you
Foothills Immigration Inc.
for helping to expand local news coverage in the Bow Valley.
Learn more.