The Iron Horse Trail is an important part of Alberta's History. Active since the early 1700s, this trail has been used by the First Nations of Canada, by fur traders, and well into the 20th century as a route for settlers. Today the Iron Horse Trail continues to be well loved and well used – not just as a transportation corridor, but also for road trips with plenty of historic and modern attractions along the way. Let's take a look at some stops to consider on your Iron Horse Trail adventure!
Cold Lake
The city of Cold Lake is a charming stop along the Iron Horse Trail. Famous for its large marina, this is a great place to enjoy watersports. In addition to hotels, Cold Lake has a number of campgrounds that range from rustic to serviced.
Be sure to check out Mamacitas Mexican Restaurant! The traditional menu includes quesadillas, burritos, tacos, chimichangas, and more.
The Beaver River Trestle bridge is a standout feature of the Iron Horse Trail. It's one kilometre long and 60 metres high, making for impressive photos. Other things to explore include leisure at the lake, a variety of museums, the all-season golf and country club, and fishing.
Ardmore
This quiet hamlet is a great place to pause during your road trip, stretch your legs, and have a break. If you are looking to do something active, swing by the Ardmore Golf and Country Club. The club is proud of its relaxed atmosphere and its family-friendly course. Enjoy the 9-hole course, 9-hole mini golf, and 10-stall driving range. Hungry? The licensed restaurant on site has meals, beverages, and snacks.
Bonnyville
Bonnyville's claim to fame is its bountiful opportunities for bird watching. The area's many lakes, parkland and boreal forests create ideal conditions for birdwatchers to spot more than 290 distinct species. Birding is a fun excursion that is open and accessible to all.
You are sure to be hungry after exploring the lakes, walking the trail, and spotting those birds. So, refresh yourself with a great meal at Jennie's Diner & Bakery. This classic diner is a throwback to the 1950s' good old days when poodle skirts and jukeboxes were the rage. All-day breakfast in addition to burgers, foot-long hot dogs, retro sodas, and more await!
After a great meal at the diner, where to next? How about picking up some delicious, fresh strawberries for the road? You'll find them at Lynn Rob Strawberry Market Garden. Enjoy this sweet treat as you head to your next destination on the Iron Horse Trail; and as you leave Bonnyville, snap a souvenir picture at the Angus Shaw Statue. Standing seven metres high, this statue, located at the Bonnyville Museum (4401-54 Ave), is impossible to miss.
Glendon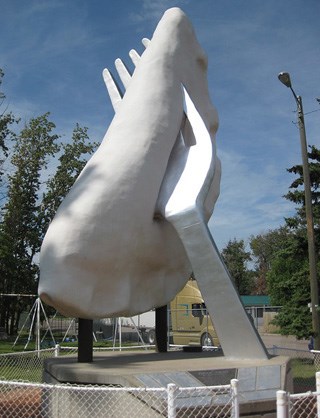 Glendon is a small village that boasts a big attraction. It's home to the world's largest perogy – and this tasty looking sculpture actually had a hand in saving the town. What better way to honour the sight of this 27-foot tall, 6,000 pound giant than by heading right over to the Perogy On a Fork restaurant? An immersive perogy experience just doesn't get any better than this!
Vilna
From perogies to mushrooms; the next stop on your journey is Vilna, where the world's largest mushroom sculpture stands tall in a park.
After some fun with fungi, hop on over to the Vilna Pool Hall & Barbershop. This historic building was constructed in 1921 and reflects the boomtown style of that time. More so, it was a community hub from the 1920s to 1996, making it a memorable tour stop for those that used to frequent the hall, and those stopping by for the first time.
The architecture is not the only way Vilna celebrates the boomtown era. Every August you can attend the Boomtown Days Fair and enjoy food, fun, and activities that celebrate Alberta's pioneer spirit.
Smoky Lake
The town of Smoky Lake is recognized as the pumpkin capital of Alberta and celebrates this achievement annually with the Great White North Pumpkin Fair. Should you miss this event in October, you can still take a selfie with the oversized concrete pumpkins in Pumpkin Park.
There is more to Smoky Lake's veggies than pumpkins! Explore Serben Farms and pick up fresh garden produce, artisan sausage, delicious jam, smoked-on-site meats, and more.
Indulge in some diner nostalgia with lunch at Betsy's Burger Shack. Do you think you can handle the "attack" burger with a side of poutine and a shack shake to wash it all down? Go for it! We believe in you!
Waskatenau
Now, why would a Petro Canada gas station be on a list of must-see places on the Iron Horse Trail? Well, like several Petro Canada stations popping up in more remote areas of Alberta, the one in Waskatenau goes above and beyond. In addition to clean bathrooms, fuel, beverages, and snacks, you can grab fresh baked goods all day long. Why not elevate from that bag of chips and have a hot sausage roll, slice of pizza, or a sumptuous cinnamon roll – unofficially claimed by some to be the best in Alberta?
For a sit-down meal in Waskatenau, try Pepper's T&T and enjoy traditional home cooked fare that will keep you full and satisfied for hours.
St. Paul
If aliens ever do come to earth, they will find a warm welcome in St. Paul. This is where the world's first UFO landing pad awaits. Until visitors from outer space do touch down on the pad, road trippers on the Iron Horse Trail are free to visit and take a photo on this site.
Another place in St. Paul to "touchdown" at is the Twisted Fork. Locally inspired cuisine is on the menu, which is why the menu updates seasonally. The décor features work from local artists and you can purchase the art pieces you like.
Elk Point
History is important even though it is not always comfortable. The Frog Lake National Historic Site at Elk Point is a prime example. This site is where tragedy and history intertwine.
Kah-Paypamhchukwao, known as Wandering Spirit, and other warriors including some from the Mishtahimaskwa's Cree band (also known as Big Bear's band) traveled to Frog Lake to discuss issues, such as inadequate food rations, with the Indian Agent. The Canadian Militia had been dispatched to address the escalating conflicts. In the end, the meeting did not go well. Nine deaths and a hostage situation resulted. Stop at the historic site to learn more about this pivotal point in Alberta's history.
Elk Point is also home to Whitney Lakes where you'll find camping, trails, wildlife, and watersports. As you enter or leave Elk Point on the north side of Highway 41, you will pass the larger-than-life statue of Peter Fidler. He was a fur trader and surveyor that helped establish the region.
Plan Your Trip Today
Whether your road trip is during the summer, spring, winter, or fall, you will never run out of things to do, see, and experience along the Iron Horse Trail. Blend history with the present day, classic diners with high-end local fare, and quirky roadside attractions with reverent memorials. However you enjoy the Iron Horse Trail, you'll come away from this adventure with a deeper understanding – and appreciation – of everything Alberta has to offer.
Nerissa McNaughton is a freelance writer and a contributor to Great West Media. This story was written for the 2023 Hot Summer Guide advertising feature. It is not written by and does not necessarily reflect the views of the editorial staff.