One of our favourite things in the world is helping you uncover new natural wonders to discover around our province. While you might be wondering when we're going to run out of places to spotlight, the answer is simple: never. Alberta is bursting at the seams with cool places to see, and we've got a super special one for you today. Introducing Sulpher Gates.
Sulpher Gates is a popular attraction in the Grande Cache area. It's a massive, jagged cliff that's etched into the confluence of two rivers: The Smokey and The Sulpher. The tree-lined cliffs tower over the water beneath, providing unbeatable views of the rivers, the surrounding mountains, and the breathtaking natural terrain of the area.
While this place looks like it would take days of backcountry exploring to reach, it's actually shockingly accessible. You will get to the area by driving north on Highway 40 for about 5km. After you cross the Smokey River bridge, you'll turn left onto the road that indicates "Willmore Wilderness Park - Sulphur Gates." Next, you'll continue on for 8km until you reach the public parking area.
As you begin your walk, you'll quickly come across a series of platforms that have been built on the cliffs for ideal viewing opportunities. The three platforms look over the confluence of the two rivers. While the third is the trickiest to access in terms of unstable footing, it's the highest and offers the best views by far. The cliffs are over 70 meters high, so you can imagine just how beautiful those views really are.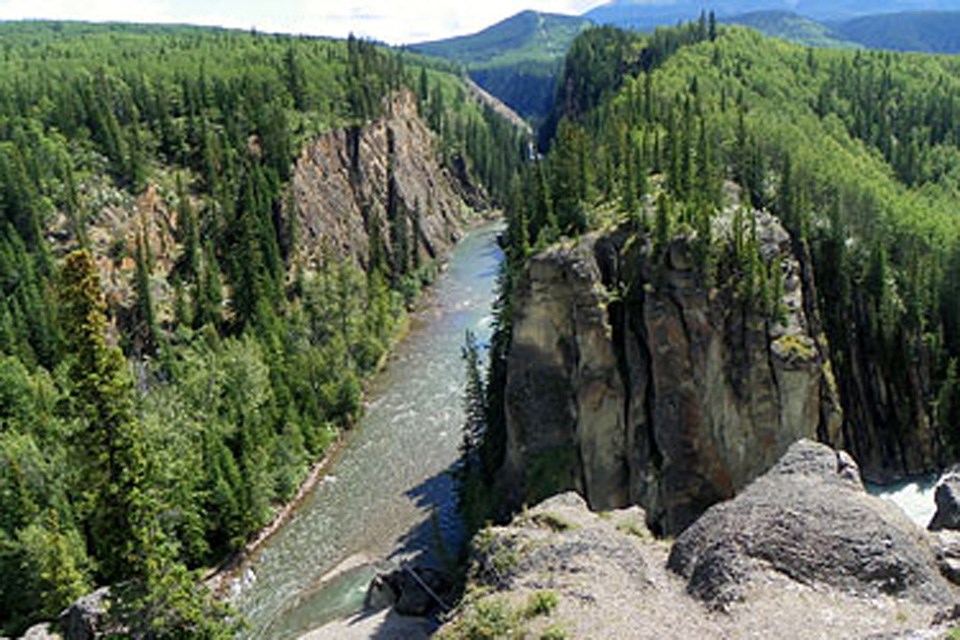 After you've taken in the enchanting views and snapped a few photos, you might find yourself interested in taking your adventure a little bit further. If not, no problem! You've already been treated to some of the best views around. If you want to keep on tucking, you can embark upon a short day hike of 6km to Eaton Falls. While there are signs, they aren't always easy to see, so be sure to check out the trail map before you head out and keep those eyes peeled.
When you reach the falls, your jaw will be on the floor. The falls explode through the canyon, misting your face as you stand and take it all in. As is the case with most natural wonders, photos truly don't do this place justice. It's absolute perfection, and you'll be shocked at how easy it is to reach such a phenomenal place.
Be sure to do your research first. Check for advisories and closures, wear good footwear, bring layers and lots of snacks, and be careful to keep your footing. Also, this area is known for wildlife encounters, so plan accordingly and leave no trace.
Britanny Burr is a freelance writer and a contributor to Great West Media. This story was written for the 2023 Hot Summer Guide advertising feature. It is not written by and does not necessarily reflect the views of the editorial staff.