From luxury suites to weddings and retreats, Creekside has everything you need for a memorable stay. What makes this location truly unique is its One Love Caribbean Café that brings a taste of the islands to the mountains.
"It was always our dream to own and operate a stylish hotel and restaurant. After many years of travelling the world and working in Europe, the Caribbean, and the Okanagan, we found out we were expecting our first child," says Carolyn. "We decided, then, that we wanted to be closer to our Canadian family who reside in Canmore. We found Creekside Villa on a whim while looking at a home across the creek and made the big jump in October 2014."
The couple re-designed the villa's restaurant formally known as Devil's Table to the new café as it was difficult to accommodate all the hotels events and also be consistent for dinner guests. "Having to shut down every Friday and Saturday evening for private events made it difficult for our regular dining customers so we wanted to bring this new concept to the community offering similar foods that people loved but in a café style. This way we don't have to shut our establishment down to the public as frequently"
"Marcus, the chef, grew up on a small Caribbean island called Bequia in St. Vincent and the Grenadines," Carolyn explains. "His family has operated hotels and restaurants there for the last 30 years. Marcus' mother has opened more than 40 restaurants in her career as a chef and is still operating three of them today. His father is involved with hotel and front-of-house operations. They are still currently operating two hotels as well."
Carolyn adds, "Marcus and I met in Bequia 13 years ago while I was on vacation. My family also resides in Bequia for half the year and has since I was a child. Being that we both have deep roots there and are both passionate about hospitality, the Caribbean influence in the food and style of the restaurant and hotel comes naturally to us."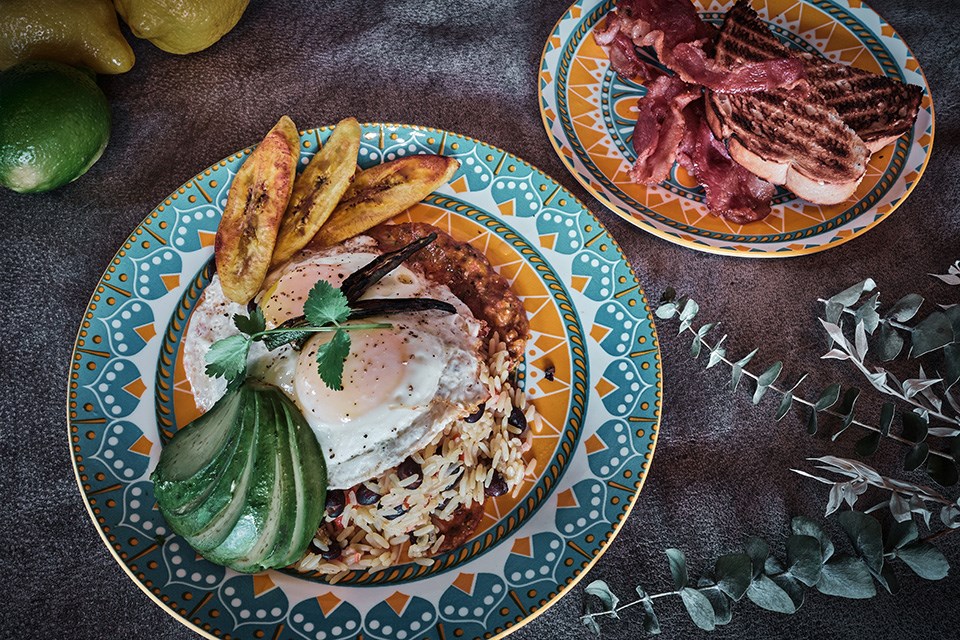 As you step inside the café, the vibrant colours and enchanting aromas of authentic Caribbean cuisine will instantly captivate your senses. Marcus expertly crafts mouth-watering dishes using fresh ingredients that are, where possible, sourced locally. Roti, Jamaican patty, jerk chicken, plantain – all your favorites are on the menu. Pair your lunch or (all day) breakfast with a refreshing, ice-cold tropical cocktail and let the rhythm of the reggae music carry you away. The stunning fireplace with its towering stone mantle and the fresh flowers on the tables complete the experience. For June, One Love is offering $30 bottles of wine, $6 pints, and weekly half price cocktails.
From the accommodations to the café, it's no wonder Creekside Villa is in high demand for events. Couples wanting to wed on site should book at least eight months in advance, although six-month calls can sometimes be accommodated.
"We have a full team here at Creekside that handles everything including design, florals, coordination, set up, and tear down, making it a one-stop-shop when it comes to weddings," says Carolyn.
Giving back is important to the Abrahamssons. Carolyn explains, "We are supporters of the Banff/ Canmore Community Foundation and offer our space as a donation to many events for this charity. Additionally, Marcus and I are board members of The Nick Project, a newly founded organization that is focused on supporting youth in sports, music and education."
The couple thanks their team, community, and guests for helping to make Creekside Villa and One Love Caribbean Café a success. Carolyn adds, "We give a special shout out to Michal and Tereza Norbert, our incredible managers. Their dedication and support have been unwavering in getting this new project launched"
If you have yet to visit Creekside Villa or enjoy an authentic Caribbean meal in One Love, what are you waiting for? The experience will be unforgettable.