Now it's time to take another tour, this time in celebration of the local artists that add beauty, intrigue, and thought-provoking art installations to public spaces.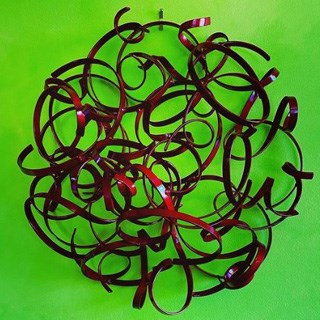 First, local metal sculpture artist Slavo Cech talks about his art and the inspiration behind it.
Slavo has more than 30 years' experience designing beautiful metal sculptures for public viewing and for private clients. He discovered his love of art under the tutelage of a great art teacher in high school. After obtaining a marketing degree and working for a gentleman that hand-crafted Christmas décor, Slavo decided to open his own business by making and selling ornaments. From there he branched out into bigger and more creative designs, growing his brand and reputation year over year.
"My art is usually inspired by walks in nature," Slavo says. "Predominately, grass has featured as an inspiration. I walk in nature, see an interesting pattern or shape, then abstract it out to its most basic form.
In addition to his work in the Alberta Art Gallery, you can see one of Slavo's sculptures in DoubleTree by Hilton Hotel West Edmonton. Be sure to also check out his Instagram page.
Now, let's see what other installations you can view around the province from a variety of artists.
Castor: Giant Beaver Sculpture
Paddy the beaver lives in Castor, Alberta – and it's not ironic that Castor is French for beaver! This adorable sculpture, by Edmonton sculpture artist Slavo Cech, is easy to find once you enter town..
Edmonton: CARBON COPY
CARBON COPY is a striking public artwork that pays homage to car culture in North America. Situated in the Brewery District, this piece uses a 1988 Plymouth Caravelle to create an illuminated obelisk. By transforming an ordinary suburban car, artists Caitlind r.c. Brown & and Wayne Garrett sought to challenge the conventional perception of everyday life and celebrate the profound influence of automobiles in our society.
Edmonton: Vaulted Willow
Located in Borden Park, Vaulted Willow, also known simply as Willow, is a blend of art, architecture, and mathematics that pay homage to the decorative structures of European estates in the 18th and 19th centuries. Created by renowned artist Marc Fornes, it is a large-scale architectural folly that delves into the concept of lightweight, self-supporting elements through innovative computational design. From afar, the colours blend harmoniously, creating a mesmerizing visual display. Upon closer inspection, the surface unveils an intricate assembly of unique digitally fabricated strips, overlapping to form a delicate yet resilient structure.
Calgary: The Upside-Down Church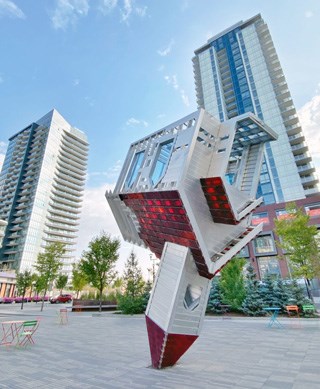 Standing at nearly seven metres tall and three meters wide, the impressive piece, known as 'Device to Root Out Evil', is currently on display in East Village. The upside-down church was designed by artist Dennis Oppenheim, whose pieces are known to push boundaries and perceptions.
Canmore: Big Head
Sitting at the entrance of Elevation Place is a very big head. In fact, it is the Big Head created by artist Al Henderson. His art is based in representation of a subject. This is clearly evident in not only the style of Big Head, but the fact that it also sports flower crowns, hats, sunglasses, and eye patches at the whims of those who interact with the sculpture.
Olds: Bergen Rocks
Bergen Rocks International Sculpture Park is hosted by Morton Burke. Over 23 renowned sculptors from around the world have graced Bergen with their presence, each creating and leaving a stunning monumental sculpture in stone. Burke is a renowned artist in his own right, creating masterpieces carved from ice, stone, metal, and wood. Tour Bergen Rocks in person or virtually.
Lac La Biche: The Feather
Artist Melanie Braund spent 345 hours welding what may be the largest feather sculpture in Canada. While this has yet to be verified, there is no denying that the installation, which shares space with other artworks outside the Bold Centre, is worth the drive. Braund chose a feather to honour the region's many Indigenous populations.
These are just some public art installations you can enjoy in Alberta. Which ones have you seen and which ones can you add to the list? Comment below and show us your pictures!
Nerissa McNaughton is a freelance writer and a contributor to Great West Media. This story was written for the 2023 Hot Summer Guide advertising feature. It is not written by and does not necessarily reflect the views of the editorial staff.