The weekend is almost here! There are tons of things happening around the province this summer, and this weekend is especially action-packed. There's something for everyone on this list, and we know you've got an amazing weekend in store. If you're ready for another unforgettable Alberta weekend, this is the perfect place to start!
Taste of Edmonton
Edmonton's massive food festival takes place from July 21 to 31 in Sir Winston Churchill Square. From 11 am to 11 pm each day, you can eat your heart out and fill up on some of the city's best-in-class food and beverage offerings. You'll find live performances, endless entertainment, and – as you'd expect – so much food. It's free to enter the festival and watch the entertainment. You only need to buy tickets for the food and drinks. This isn't just the spot to find your next meal. It's a rich and memorable experience, a phenomenal community-building opportunity, and the perfect excuse to spend a day in the sun in Edmonton.
Fiestaval
From July 22 to July 24, Calgary is getting a giant fiesta Calgary Olympic Plaza! There will be over 25 authentic Latin food vendors, hundreds of performers from around the world, a great artisan market, and a lot of fun. There's a kid's area if you're coming as a family and beer gardens if you're looking to enjoy a drink in the sun. Join in this beautiful celebration of culture and community. The best part? It's totally free to attend!
K-Days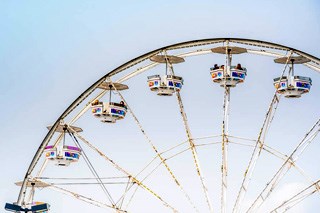 Edmonton is going to be buzzing this weekend. From July 22 to 31, K-Days will take place at the Edmonton EXPO Centre & Exhibition Grounds. Attendees will enjoy outstanding live music, so much food, carnival rides, and unique exhibits. The festival will open at noon each day and close at midnight. The roster of musical performances is stacked with acts like Tyler Shaw, Classified, Jason Benoit, and so much more. They've got every genre and tons of big names. While the concerts will be amazing, they're only a tiny sliver of all of the action. Check out the schedule. You won't believe how much is packed into this event!
Calgary Folk Music Festival
Let's take a look back over to Calgary for another phenomenal festival taking place this weekend. The Calgary Folk Fest runs from July 21 to 24 and the lineup is unreal. The headliners include Spoon, Black Pumas, Courtney Barnett, Allison Russell, K'Naan, Josh Ritter, Watchhouse, The Wood Brothers, and more. You can look forward to performances from 70 fantastic musical artists. On top of that, there's food, an arts market, and beer gardens. This fan-favourite festival is a summer staple; you don't want to miss it.
Westerner Days
Last but certainly not least, Westerner Days Fair & Exposition in Red Deer. This is "Central Alberta's Largest Summer Celebration," and it's sure to be an absolute blast. From July 20 to 24, you can enjoy live music, midway rides, concerts, free entertainment, pony chuckwagon races, great food, and more. This is a great way to enjoy a hot summer weekend in Alberta with the whole family. With five full days of fun, you can enjoy everything from clowns and fireworks to music and sporting events.

Britanny Burr is a freelance writer and a contributor to Great West Media. This story was written for the 2022 Hot Summer Guide advertising feature. It is not written by and does not necessarily reflect the views of the editorial staff.