Summer is for adventure, spending time in nature, and exploring this beautiful province we call home. If you're in the market for new places to visit, why not embark upon a waterfall hunt around Alberta? We've rounded up a list of beautiful Alberta waterfalls you need to see. There's no better feeling than misty glacier water on your skin. Let's get out there and chase some waterfalls!
Ram Falls
Ram Falls should be on your must-see list if you're hunting for gorgeous Alberta waterfalls. Ram Falls Provincial Park is in Clearwater County, South of Nordegg and West of Rocky Mountain House. The park is enchanting, but the falls are the main event. Fed by the Ram River, this waterfall plunges 20 meters to the sandstone below. There's a perfect viewing platform to stand and feast your eyes. The walk to the falls is short and easy, so this is an excellent option if you're not looking for a big old hike.
Athabasca Falls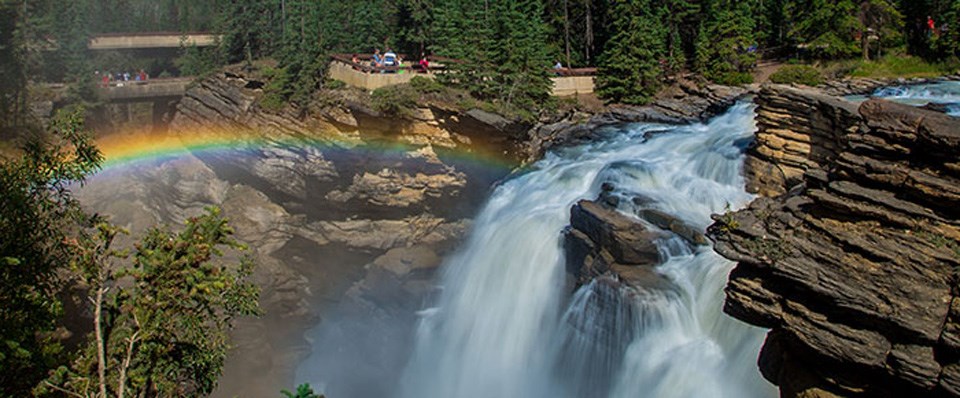 This awe-inspiring place is located in Jasper National Park and deserves a spot on your summer bucket list. Located about 30 kilometres south of Jasper, this waterfall is just west of the Icefields Parkway. The Parkway is a sight in its own right, so the drive there certainly won't disappoint. This powerful waterfall plunges 23-metres into the canyon below. The falls are wild and loud, causing the mist to float in the air. It's the perfect way to cool down during an Albertan heat wave. You can walk along the paved pathway to find several lookout points for your viewing pleasure. It's a treat for all senses, and you won't regret giving this powerful beauty a visit.
Kakwa Falls
Kakwa Falls is Alberta's tallest waterfall. You'll find this baby about two hours south of Grand Prairie within the Kakwa Wildland Provincial Park. Flowing from 30-meters high, you won't believe your eyes. Here's the thing, you've got to put in the work to get a glimpse of these falls. The Kakwa Falls Trail is over 21 kilometres long, and the hike is moderately challenging. The park is enormous, and you'll find valleys, creeks, lakes, a ton of wildlife, and so much splendour. If you love a good hike and don't mind getting your steps in, this waterfall is worth the journey.
Cameron Falls
You can't talk about waterfalls without taking a little journey to Waterton. Cameron Falls is located right in the townsite of Waterton, so it's as accessible as can be. Feel the cool mist on your skin as you stand and take in the enchantment of this little hotspot. There are interpretive displays all around if you love learning about local history, and you can even walk along the paved path to get right up close to the right side of the falls. Cameron Calls is famous for turning pink on rare occasions. This phenomenon is thanks to sediment called aerolite, and if you're lucky, you might get to see the falls turn when the light hits just right.
Photo - Falls 3 - Cameron Unsplash | David Thielen
Crescent Falls
Here we've got another breathtaking waterfall west of Nordegg. Well, there are two! Crescent Falls are beyond spectacular. You need to see this for yourself. The two waterfalls are located on the Bighorn River. Originally called the Bighorn Falls, they've now been dubbed Crescent Falls, a nod to the shape of the cliff they plunge over. It takes a little walking to get there, so don't expect to drive right up. A short hike, under 1 kilometre, will get you close to the falls. If you want to look from afar, there is a viewpoint just below the parking area. You are going to love this place.
Britanny Burr is a freelance writer and a contributor to Great West Media. This story was written for the 2022 Hot Summer Guide advertising feature. It is not written by and does not necessarily reflect the views of the editorial staff.