Being a homeowner means weekends doing chores or finding reliable service companies to take on tasks for you. Gutters play an important role in protecting your home and should be added to your bi-annual home maintenance schedule.
Cleaning gutters yourself is typically not difficult, depending on the size of your home, your physical ability to climb ladders, and the current condition of your gutters. We've provided some easy instructions and some questions you should ask yourself to determine if it is time to hire a professional!
What Do Gutters Do?
The gutters along your roof are designed to collect rainwater and send it to the downspouts that direct the water off your roof. By doing this, gutters protect your roof from gathering moisture that can cause mould or damage. They also prevent rain and debris from dripping down onto your windows and the sides of your house or gathering at the base of your home. Without this function, dripping rainwater can cause dirty-looking windows and sidings and could cause moisture damage over time. The water that would gather along the base of your home can also cause damage including erosion and possibly flooding in basements and crawl spaces.
How to Clean Your Gutters
Cleaning your gutters involves a:
Sturdy ladder
Gloves
Garden hose that reaches all sides of your home
Something to collect debris in, such as a tarp.
If you want, you can use small shovels or even a spatula to scoop up debris. You'll also want to have a scrub brush or sponge with a bleach or vinegar cleaning solution.
Ready to go? Travel around your house scooping out the collected leaves, pine needles, and other debris from the gutters. Be sure to follow ladder safety protocols! This includes placing the ladder on steady, level ground, not stepping on the top two steps, avoiding reaching out too far, and working in dry weather. If you are using an extension ladder, do not place it on the gutters as it can cause damage, or the gutters may shift, and the ladder could slip.
Once you've removed all the debris, use a garden hose to wash out the gutters and clear out the downspouts. Water should flow easily through the downspouts, and you should check your gutters for leaks at this time. Watch to see if water gathers in a pool after coming off the downspout extension. You'll also want to check for mould. This can be a sign of water gathering in your gutters. Clean mould and other dirt with your scrub brush or sponge and bleach or vinegar solution.
Gutters should typically be cleaned twice a year, in the spring and fall. If your roof gathers debris or you live in an area with a lot of rain, you may want to check your gutter system three to four times a year.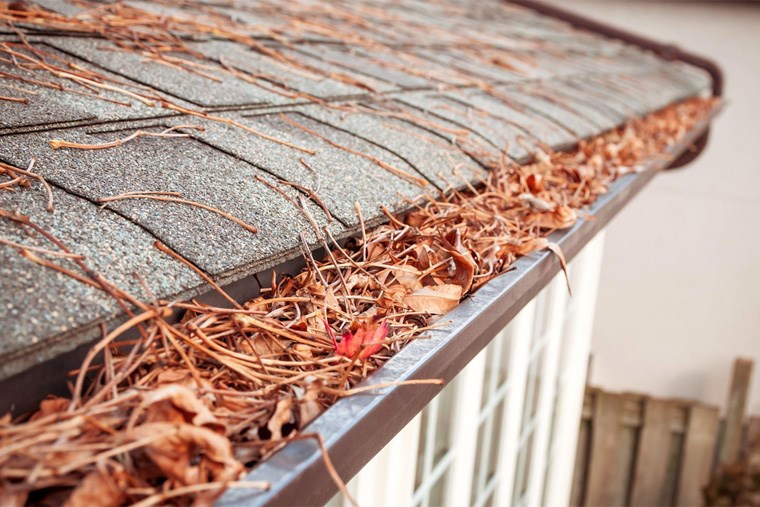 Easy Repairs
Loose gutters or downspouts can be re-secured to your home. Some leaks can be sealed and fixed. Downspout extenders can be redirected, moved, or replaced if water pools or leads to an unwanted area. You may want to consider adding gutter guards that allow water to flow but prevent debris from gathering in your gutters.
When to Hire Someone
Here are some questions to ask yourself to determine whether it is time to call in a professional:
Are you comfortable climbing ladders to reach your gutters?
Do you have hoses that will reach all sides of your home?
Are your gutters in reasonably good shape (not sagging, leaking, damaged, rusted, or in need of replacement)?
Do you feel confident tackling any needed repairs?
If you have answered no to one or more of these questions, you may want to find a gutter cleaning company to help.
How to Find a Gutter Cleaner
If you have decided to hire someone for your gutter cleaning or repairs, take a little time to do some research. Asking for recommendations on Nextdoor or your community Facebook page is a great way to find reliable, professional gutter cleaners in your area. Doing a Google search and reading reviews is another helpful tool. Choosing a company with insurance is always a good idea. Small companies may be busy in the spring and fall, so make sure to call early!

This story was made possible by our
Community Partners Program
. Thank you
NWR Painting Inc.
for helping to expand local news coverage in the Bow Valley.
Learn more.