Feeling like your home's interior decorating needs an upgrade, but not ready to commit a lot of time and money? There are plenty of simple additions or replacements that make a significant impact on the look and feel of the most-used rooms in your house.
Here's a list of inexpensive items you can use to elevate your indoor space and tips on how they affect your home's atmosphere.
Faux Plants
Green accents make any space feel homey and fresh. They bring brightness and the feeling of health and wellness reminiscent of being outdoors. Using faux plants means you won't have to stress about watering schedules, especially if you and your family are out and about much of the time.
Add a tall fake tree or two to entryways, offices, and sunrooms. Try smaller plants or succulents for bathroom shelves, windowsills, and bookshelf accents. Use artificial ferns or other medium-sized planters next to TV stands, fireplaces, or in the corners of the dining room or kitchen.
Vases
They're easy to pick up at a thrift store, a large chain, or an artisan craft fair, and a strategically placed vase is all about elegance. Add one to your bookshelf next to a small stack of books all in the same colour. You can also place one on the centre of a mantle or as a centrepiece on your kitchen table or island. The key is to decide whether the vase is a cohesive, blending piece in a neutral colour, or whether it will be your statement item for that space. Handmade items, in particular, make great conversation pieces to draw the eye and inspire interest.
Throw Pillows
Throw pillows are one of the easiest accents to change out with the seasons (or on a whim) and they can make a big statement. Go monochromatic and keep them all the same colour for a put-together feeling, or go with two or three coordinated colours. Add one pillow with extra texture, shine, or a large graphic to be the focal point of the sitting area or bedroom.
Light Fixtures
Light fixtures are relatively easy to change out and can dramatically change the feel of a space. Add a chandelier to a dining area, or swap outdated kitchen lights for a sleek, modern style that literally and figuratively brightens your workspace. In bedrooms, try dimmable lights or globe chandeliers to give warmth and style.
Curtains
Curtains are incredibly versatile in designing your space. They can make a room appear taller, add warmth, colour, or even a cooling effect. Try gauzy curtains in a bright, hot room to add whimsy and airy-ness, or heavy tartan drapes in a chilly downstairs guest room to make it cozier. Curtains in the kitchen and living room can pull the space together and add a finishing touch.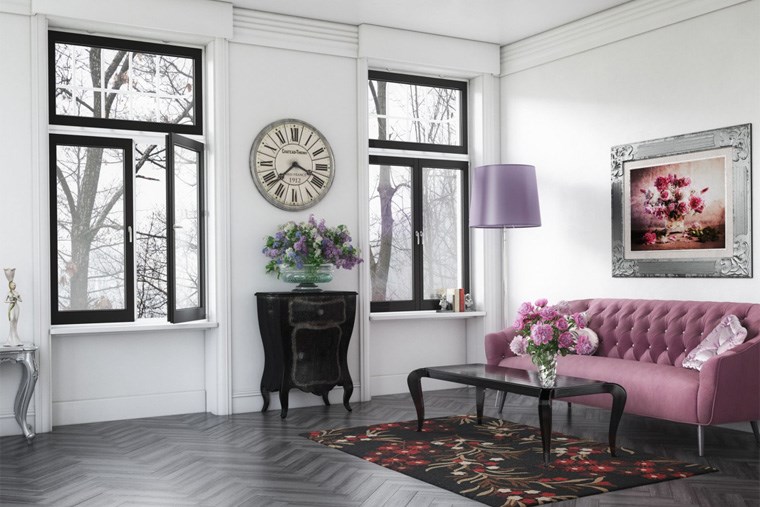 Fragrance
Guests love walking into a home that smells like cinnamon or fresh laundry. Add the dimension of scent to your interior design atmosphere with the addition of candles, incense, or a diffuser. You can get an electric diffuser you plug into the wall or a reed diffuser that looks great on a shelf.
Mirrors
Mirrors add light and visual space to even the smallest rooms. Add one opposite a window to reflect more sunshine in. Add them to a narrow entry to create spaciousness or to guest rooms and dark living areas to brighten the corners.
Digital Art
The great thing about digital art is how easy it is to swap when the mood or season strikes. With just one frame that's perfect for your space, you can download and print new digital art for a very reasonable price and switch it up whenever you need!
Meaningful Statement Piece
Another way to elevate your space is to make meaningful statements. This could be a souvenir from an important trip in your life, a photo from the time you climbed a 14er, or a photo of your family with your four-legged friends. Whatever it is, draw the eye toward it by creating a little space around it, or coordinating the colours of your other design elements to accent it.
Matching Serving Glasses or Dishes
Nothing says classy like a set of matching wine glasses, ice cream dishes, or snack trays. It shouts host-with-the-most and brings cohesiveness to your interior space that's noticeable even in large gatherings.
With these ideas, it's easy to elevate your space without breaking the bank—you can choose one idea to add to your decor or take on several and make your decorating statement!

This story was made possible by our
Community Partners Program
. Thank you
NWR Painting Inc.
for helping to expand local news coverage in the Bow Valley.
Learn more.