There's arguably no better use of smart home technology than keeping your family and valuables safe, and a video doorbell offers a variety of home security benefits.
This small yet powerful surveillance equipment records video footage as visitors arrive—great for security whether you are home or away. Plus, the device's sleek design hides its impressive functionality in an unobtrusive package.
If you're looking to enhance home security or expand your smart home automation system, consider these key video doorbell benefits and check out these top products.
See Who's At the Door — Even When You're Away
A built-in video doorbell camera – such as the Google Nest Doorbell – captures anyone that's heading to your door, knocks, or rings the bell. You can watch live or recorded footage via a smartphone, whether you are home or away. Thanks to this invaluable safety feature, you don't have to open your door to a stranger—only at your own discretion.
Have a Two-Way Remote Conversation
If you're home alone or busy, a video doorbell allows you to conduct a two-way conversation with an outside caller with the door closed. You can also speak remotely via your smartphone, and the visitor won't even know you're away.
This intercom-style feature comes in handy when you're working, out of town, or if you're out for a jog around the block. Thieves often target homes that look empty. Therefore, answering when someone rings the doorbell—especially when you're not home—gives a potential burglar the impression that you're talking from inside the house.
Enjoy Superb Video Quality — Even at Night
As with other cameras in your smart home security system, you can watch a live feed from a smart doorbell's high-quality camera any time of day from anywhere via your smartphone. Plus, night vision technology delivers excellent images of nighttime visitors.
Keep an Accurate Visitor Log
If someone knocks on the door when you're gone or you miss an in-person caller, a video doorbell takes a still shot and records the date and time of their visit. This function enables you to keep an accurate, continuous log of everyone who stops by your home and exactly when they were there.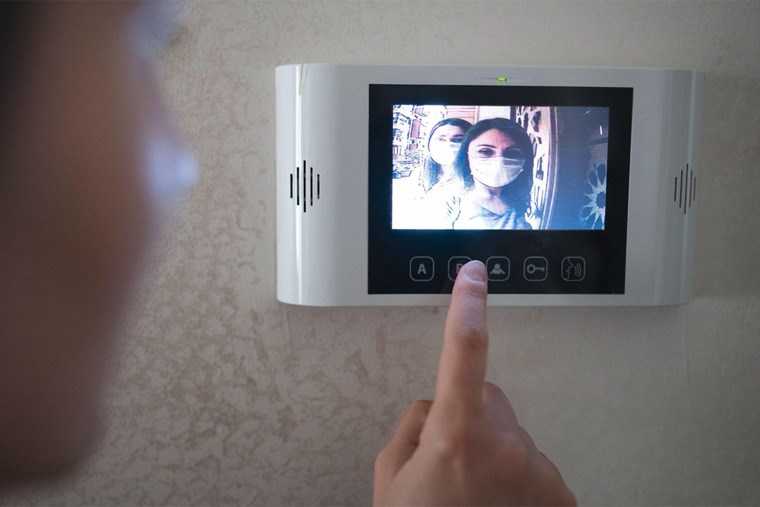 Supplement a Smart Home Security System
A video doorbell is one important piece of a complete smart home security system. Different camera locations offer multiple views of your property. The extra doorbell footage adds additional security, safety, and peace of mind for your loved ones.
Top Video Doorbell Brands – Some Popular Picks
Now that you understand some of the product's key benefits, which smart doorbell brand and model should you choose? To help narrow your search, here's a look at five popular products that made multiple 2021 video doorbell rankings.
Google Nest Hello Wired Video Doorbell: The Google Nest Hello Wired Video Doorbell made Consumer Reports' Best Video Doorbells of 2021 list, and Good Housekeeping dubbed it the 2021 Best Feature-Rich Smart Video Doorbell. The multifunctional, cutting-edge device shows people and packages at your door and sends smartphone alerts. Plus, it provides 24/7 Wi-Fi connected streaming from your door, enables two-way remote communication, contains night vision technology, and uses facial recognition. Nest Hello works with Google Assistant and Amazon Alexa. The price range is $199.99 to $229.99.
Amazon Ring Video Doorbell 3 Plus: Good Housekeeping called Amazon's Ring Video Doorbell 3 Plus the "Best Wireless Smart Video Doorbell" on its 2021 list. It is also one of Consumer Reports' Best Video Doorbells of 2021. Per Amazon, the upgraded device boasts "improved motion detection, privacy zones and audio privacy, and dual-band (2.4 or 5.0 GHz) Wi-Fi connectivity." The unit is powered via a rechargeable battery pack or connects to the doorbell wires. It also works with Amazon Alexa and Google Assistant. The price range is $179.99 to $229.99.
SimpliSafe Doorbell Pro SS3: The Consumer Reports 2021 ranking touts the SimpliSafe Doorbell Pro SS3 as having the highest privacy rating of any video doorbell in their product testing. According to SimpliSafe, the Doorbell Pro "uses two different sensors. One "identifies the heat signature of people," and the other "detects human form." Either scenario triggers an alert. The price ranges from $129.99 to $134.95.
Arlo Essential Video Doorbell Wire-Free: PC Magazine praises Arlo's Essential Video Doorbell Wire-Free for its "excellent video quality" and ability to work with "more smart home devices," including Samsung SmartThings home automation program, Amazon Alexa, Google Assistant, and IFTTT applets. It can also connect directly to Wi-Fi without a hub. The battery-powered device also earned Good Housekeeping's 2021 rank as the "Best Overall Smart Video Doorbell." The consumer magazine specifically lauded the camera's keen ability to "distinguish people from animals, cars, and other moving objects, eliminating annoying false notifications." The price is $179.99.
RemoBell S: For a value-priced option, the RemoBell S comes in under $100. The doorbell made PC Magazine's Best Video Doorbells for 2021 list for "free cloud storage." Good Housekeeping dubbed it "Best Value Smart Doorbell." It packs a lot of features for its low price, including infrared night vision, a built-in alarm, 180-degree field view, two-way talk, adjustable motion sensors, and more.
Overall, a video doorbell enhances home security and offers peace of mind near or far from home.

This story was made possible by our
Community Partners Program
. Thank you
NWR Painting Inc.
for helping to expand local news coverage in the Bow Valley.
Learn more.