There are lots of products that help you keep living spaces orderly and keep clutter at bay. Here's a look at 10 organizational products to help your home neat and tidy.
Just the thought of sorting through and organizing stuff in your home might seem overwhelming. Fear not! Working on one area at a time or working at your own pace is fine. Plus, there are many products that help you keep living spaces orderly and keep clutter at bay.
Here's a look at 10 organizational products to help you keep your home neat and tidy.
Drawer Dividers
From underwear to socks to neckties and makeup, you're not alone if your dresser and cabinet drawers are messy and you plow through "piles" to find what you're looking for. Drawer dividers take care of this problem with convenient "cubbies" to store individual items—from office and craft supplies to kitchen utensils. Many dividers are adjustable to accommodate drawer dimensions.
Closet Organizers
Who doesn't want more closet space? Clever closet organizers maximize storage while also making it easier to put everything in a designated place and find what you need quickly. For example, a versatile, five-shelf hanging organizer holds sweaters, shoes, purses, and more. Handy side pockets are perfect for scarves, gloves, and sunglasses.
Pants hangers typically hold five pairs of pants on one hanger. Sweater boxes can hold multiple sweaters or tees and have clear fronts to easily see what's inside.
Entryway Storage Shelf
If you don't have a mudroom or a large foyer, a multitier shoe bench or rack offers a place to put a purse, keys, boots, shoes, and more. Another space-saving idea is installing a wall-mounted pegboard for hats, coats, and scarves over a small side table for keys, etc., and a basket or bin for boots and shoes.
Bathroom and Kitchen Under Sink Organizers
The kitchen and bathroom sink cabinets are often catchalls for cleaning supplies, sponges, soap, trash bags, dish detergent, and more. Cabinet organizers fit in deep cabinets and boast multiple drawers for easy access. Some models even have two adjustable tiers.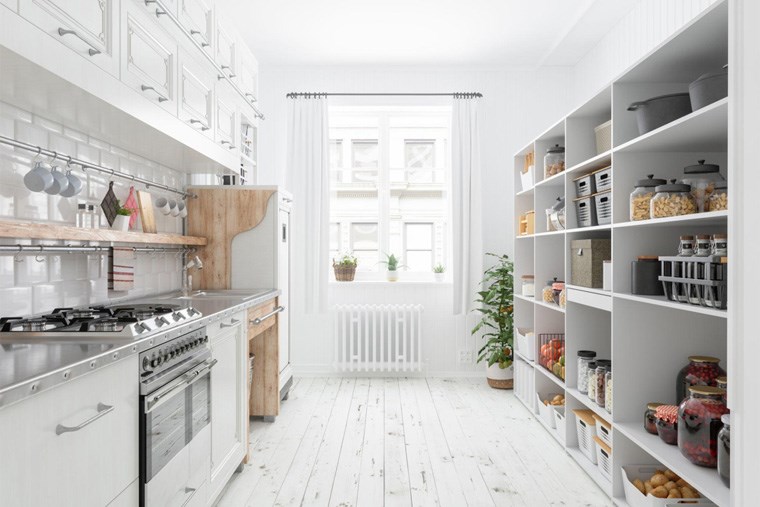 Kitchen Countertop Organizers
Kitchen counters are another place where space is at a premium, and keeping frequently-used items handy makes prep and cooking easier. Stackable storage bins can stack vertically to hold veggies, fruit, snacks, bottles, and cans on the counter or a shelf. This Magnetic Storage Basket from Yamazaki Home can hold spices, oils, utensils, coffee, and so much more. It can even mount on the side of the refrigerator. Instead of cramming pots and pans into a cupboard and hoping the heap doesn't crash down to grab what you need, try a pot and pan rack or an adjustable version. An adjustable wrap stand is a compact storage solution for foil, kitchen wrap, baggies, and more.
Refrigerator Storage Bins
Reaching into the fridge to grab a yogurt and knocking down everything in front of it is never fun. Some handy food storage bins for the fridge and freezer will help prevent this problem. They will also keep foods and beverages organized and more accessible. Stackable sets will also work great in the pantry or countertop.
Over the Cabinet Door Storage
When you need to utilize every little space, consider the kitchen and bath cabinet doors. Over-the-cabinet door storage racks are an excellent solution for organizing items like plastic bags, hairdryers and curling irons, cutting boards, and kitchen wrap.
Over the Toilet Storage
Over-the-toilet organizers can add style and storage to bathrooms that are limited on cabinet and closet space. Options depend on decor preference and the amount of space around the commode. A hutch usually offers cabinet and shelf storage. You may also choose floating shelves, a floating cabinet, or a multitier metal stand. Mounting wire baskets to the wall is another great way to free up floor space and store towels.
Home Office and Desk Organizers
Keeping your home office and desk orderly and clutter-free can help boost productivity, relieve stress, and improve efficiency. Floating shelves or wall-mounted organizers can free up desk space and hold books, letters, or files. A rolling multitier storage cart can keep paper, scissors, files, appointment books, and more within an arm's reach. Mesh stacking trays offer an easy way to organize completed work, to-do files, and other important documents.
General Storage Solutions
A few general organizing solutions can accommodate multiple storage needs. For example, a countertop makeup caddy also works for small toys, jewlery, crafts, and office supplies. Under-the-bed storage bags or ottomans with storage can house blankets, linens, sweaters, board games, and more. Stackable storage cubes and cubbies can hold books, toys, clothes, purses, or just about anything.
Whether you live in a small apartment or a sprawling ranch, having designated storage spaces for your favourite or frequently used items helps keep your home neat, tidy, and organized.

This story was made possible by our
Community Partners Program
. Thank you
NWR Painting Inc.
for helping to expand local news coverage in the Bow Valley.
Learn more.