Discover the best times to go, essential preparations, and safety measures, all while uncovering the most picturesque skating destinations amidst this winter wonderland.
Alberta's Rocky Mountains, renowned for their towering peaks and pristine landscapes, offer an unexpected winter delight: wild ice skating. Embracing the great outdoors on frozen lakes is a memorable experience, but there are essential tips to ensure you make the most of this icy adventure.
When To Go Wild Ice Skating
To experience the magic of wild ice skating in the Rockies, plan your trip between November and March. These months typically offer the most favourable conditions, with lakes frozen to perfection. Ideally, you'll go at the very beginning of winter while it's still possible to clear the ice and experience the beautiful, crystal-clear frozen waters. The later into winter it gets, the colder it gets and the trickier to clear away the snow.
To enjoy more solitude on the ice, it's always a good idea to visit during the weekdays when the lakes are less crowded. Weekends tend to draw more visitors seeking the same frozen wonder, so opt for a quieter midweek escapade.
For serenity and captivating views, consider going early in the day or just before sunset. Early mornings provide a tranquil atmosphere, while sunset casts a breathtaking golden hue over the landscape. If you're going on a weekday, though, midday is your best bet.
Come Prepared: What You Need
To fully enjoy your wild ice skating adventure, be prepared with the following:
Skates: Make sure you have a reliable pair of ice skates that fit well and are comfortable for long hours on the ice. Some locations offer skate rentals, making it accessible for everyone.
Warm Clothing: Layer up with thermal clothing to keep yourself cozy. Winter temperatures in the mountains can be harsh, so pack extra clothes, mittens, and hats.
Safety Gear: Although wild ice skating doesn't usually require protective gear like hockey, it's always a good idea to wear a helmet, especially if you're a beginner.
Shovel: Be prepared to clear your skating area or use a section of the lake that has been previously shovelled. Most wild ice skating lakes are not maintained.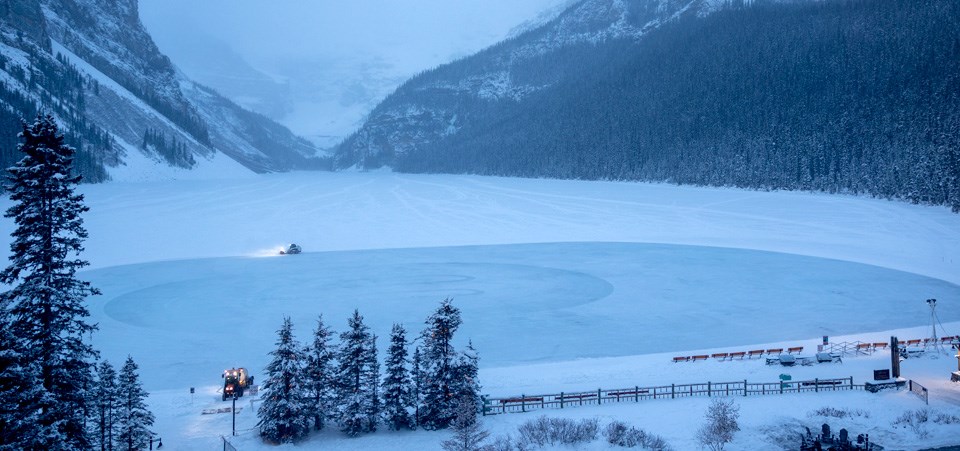 Checking Conditions & Keeping Safe
Before you embark on your wild ice skating journey, there are some things you need to consider. Keep a close eye on weather forecasts and the conditions in the area you plan to visit. The average window for perfect skating conditions lasts for about 10 to 14 days, depending on the weather. Check live webcams, such as the Lake Louise cam, for real-time updates on the lakes' conditions. It's an excellent tool to gauge whether it's the right time to visit.
And finally, always adhere to local guidelines and restrictions. Safety should be a top priority when wild ice skating in Alberta. Keep your safety in check by avoiding risky behaviours.
Where To Go
Lake Louise: Located at the Fairmont Chateau Lake Louise, it offers a majestic backdrop and skate rentals.
Vermilion Lakes: Close to Banff, it provides a tranquil and picturesque skating experience.
Two Jack Lake: With breathtaking mountain views, it's perfect for a serene skate.
Johnson Lake: Ideal for beginners and families, often freezing early in the season.
Gap Lake: Nestled within the Rockies, it offers stunning scenery and a serene atmosphere.
Abraham Lake: Known for surreal ice bubbles, this expansive frozen lake provides a unique and magical setting for skating.
Pyramid Lake: In Jasper National Park, it offers tranquility and stunning views, perfect for embracing winter's beauty.
With these tips, you're ready to embark on a wild ice skating adventure in Alberta's Rockies. Embrace the serene, frozen landscapes and create lasting memories in this picturesque winter wonderland.
Britanny Burr is a freelance writer and a contributor to Great West Media. This story was written for the 2023/24 Cool Winter Guide advertising feature. It is not written by and does not necessarily reflect the views of the editorial staff.