Ross made history in 1998 as the first ever gold medal winner in the Olympic sport of snowboarding when it was officially added to the lineup of the Winter Games. Although the win was not without controversy, Ross overcame significant hurdles and turned his win, and the challenges that followed, into something positive. Today he's giving new snowboarders advice on how to safely hit the slopes.
"Okay, let's assume you already have your gear," Ross starts. "The first thing you need to figure out is which foot you want forward. If you have skateboarded before, you would use the same stance. Right foot forward is called 'goofy foot.' Left foot forward is called 'regular.' There is no real reason for that! Most people are left foot forward, however."
If you can't figure out if you prefer a left or right stance, Ross notes a more direct discovery method.
"Have someone [gently!] shove you from behind. You will likely put your dominate foot forward."
With the foot sorted out, it's time to hit the slopes.
"Take a lesson!" Ross cautions. Don't try to figure it out all out on your own!"
That being said, he knows many eager new snowboarders are going to head right up the hill and try to sort out how to do the sport on their way down. His advice stands – take a lesson! Now for those that don't heed expert advice…
"Start on one side of the run and choose either your heel edge or snow side edge and ride down. When ready for the other side, side down and literally roll over. Get to the other edge of the board and do it again. Get the feel of the balance. Some people like to slide down the hill in one straight line, then flip and do it again."
Ross continues, "You want to have your arms where you can see them. If you can't see them, your balance will be off."
Ready to try a turn?
"A good way to go about it is to initiate the turn with your shoulders," counsels Ross. "Turn your upper body in the direction you want to go, and the board will drop into the fall line (if you roll a ball down a hill the fall line is the natural path the ball would take). Switch your edge before you cross the line or you'll probably catch the edge and fall on your butt or do a face plant!
"Another way to turn is to initiate with your upper body and put your weight on your front leg. Slide around the corner. Then, rotate your upper body the other direction away from the front foot so you can go around the other way.
"Those would be the basic moves. When you get to the bottom, if it takes you an hour or an entire day, that depends on the mountain. If you want to go again, take your back foot out to get on the chair lift."
Don't get discouraged if your first few runs are not the smooth ones you envisioned. "Most people pick it up after a day of giving it a shot, and then continue to get better," Ross says.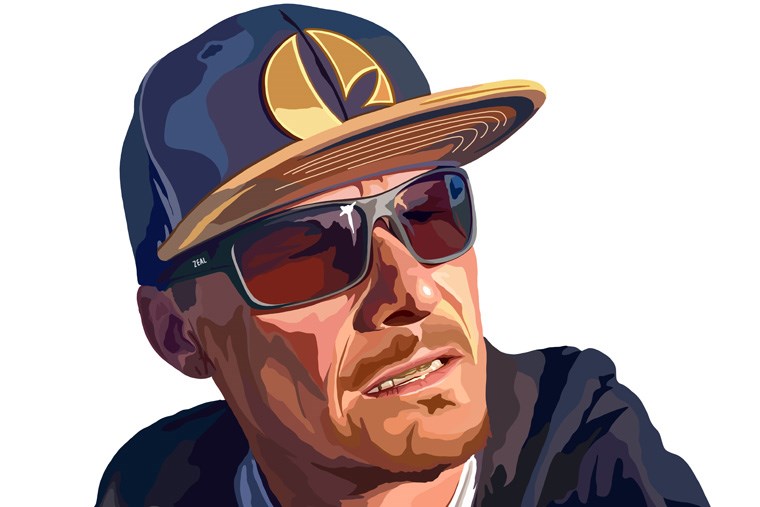 If you don't have gear, here are some bonus tips from Ross.
"You can rent, but if you want to buy, used is a good option. However, one important thing is your boots. Get those new but if you must go second hand, make sure they are not more than two years old. The boot/board connection is very important. Most people are not thinking about having their feet strapped down. Without good boots you can get a cramp and want to take your boots off."
He can't stress the importance of a good helmet and googles. Have either one set of goggles for cloudy days and another for sunny days, or just one with a lens that transitions in low/bright light, like the goggles made by Zeal Optics. Optimal vision is paramount to see the snow conditions and bumps coming up on the hill.
Ross says most brands make excellent equipment, but he has a personal preference for Nitro Snowboards. It's a Canadian brand that supports a lot of up and coming riders.
A day on the snowboard can make even experienced riders stiff and sore. Ross' Gold will soon carry a line of topical CBD products, tinctures, and gel packs that will help any snowboarder relax their muscles after a fun day on the hill.
Snowboarding is a great winter sport and there are plenty of places here in Alberta to learn and enjoy it. Remember, safety first, take a lesson, get the gear, and respect others on the hill.
Nerissa McNaughton is a freelance writer and a contributor to Great West Media. This story was written for the 2021/22 Cool Winter Guide advertising feature. It is not written by and does not necessarily reflect the views of the editorial staff.
This article was originally published on February 7, 2022.