Looking for the perfect excuse to get outside this winter? Well, you sure don't have to look far. In our beautiful province, there are stunning hikes everywhere you turn, many of which are even more lovely in the winter. Since you're already braving the cold and tricky conditions, we've rounded up a list of easier winter hikes for you to enjoy during the colder months this year. As always, be sure to check the weather, check for closures and advisories, make sure someone knows where you're going, even if you're going with someone else, and pack a ton of warm layers, extra snacks, and water. Good, sturdy footwear is always a must, too. Now that you're ready to set out let's talk about where you'll be going.
Pat's Creek Interpretive Trail
This beautiful trail can be found near Northern Sunrise County, near Peace River. It's just under 7 km and is considered an easy route. Dogs are allowed, and it's never too busy, so you can expect to enjoy some serious serenity during your journey. If you want to do the entire hike, you can expect at least two hours of walking. Or, you can just walk for a short ten minutes to the metal stair landing for a beautiful view. This area is home to glacial deposits left over from the last ice age about 12,000 years ago, a ton of wildlife, and so much beauty. It's ideal for snowshoeing or cross-country skiing, too, if you're not in a hiking mood.
Forefield Trail (Icefields Parkway)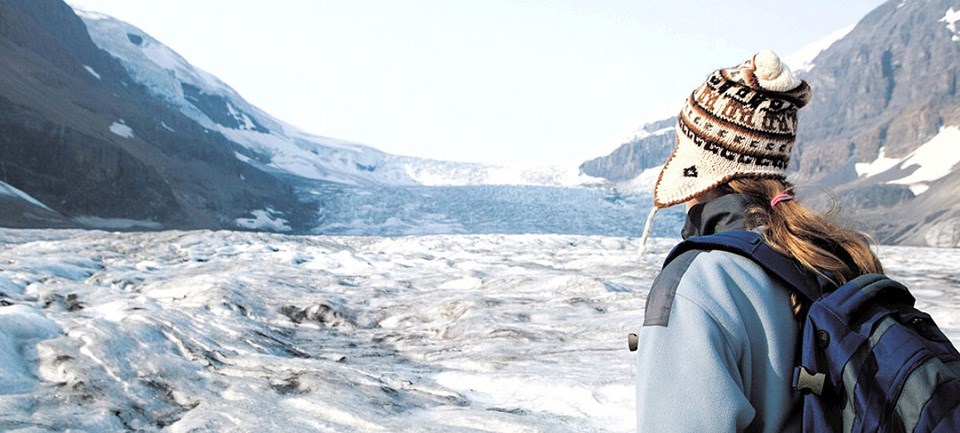 This 5.4 km hike is divided into two mini-trails: the Forefield Trail (3.6 km) and the Toe of the Athabasca Glacier Trail (1.8 km). With minimal elevation gain and an elevation point of 1990 m, it's a moderately challenging adventure that takes approximately 1.5 hours. For safety, remember that glaciers are unpredictable, so hiking with someone experienced is crucial. The trail offers ever-changing experiences from year to year. In winter, consider microspikes or snowshoes, while in summer, prepare for chilly glacier winds. While it's an easy walk, watch for slushy moraines and stream crossings, which might require turning back. Enjoy breathtaking views at the Toe of the Athabasca Glacier trailhead, complete with amazing toilets with a view!
Badlands Interpretive Trail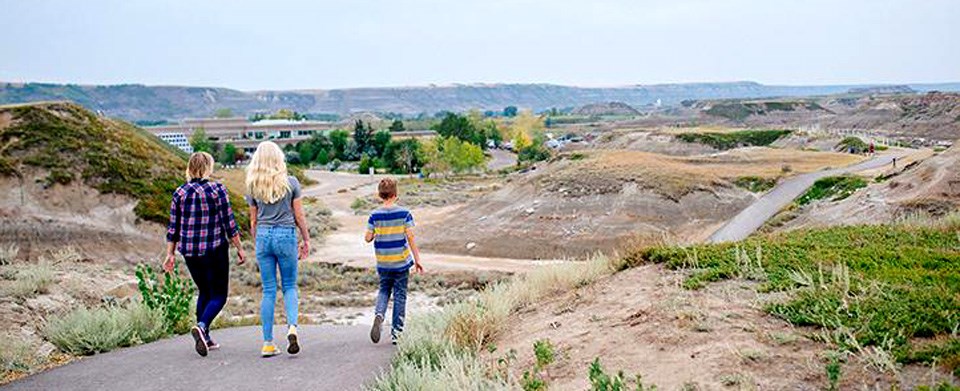 Located near the renowned Royal Tyrrell Museum in Midland Provincial Park, the Badlands Interpretive Trail usually caters to spring, summer, and fall hikers, but don't let that deter you in winter. Even with a light snow covering and occasional icy patches, the trail remains navigable, especially with the right footwear or icers. This 1 km loop offers an introduction to the stark beauty of the Badlands and is an excellent starting point for further exploration. As you hike, you might even spot curious deer observing you from above. For the adventurous, extend your journey along the interconnected trails, like the scenic Red Deer River route. Despite its accessibility and proximity to the museum, you'll find the trail relatively tranquil, making it a perfect way to experience the Badlands' unique charm in the winter months. So, if you find yourself in Drumheller on a clear winter day, set aside some time to explore the Badlands Interpretive Trail – you won't be disappointed.
Waskasoo Park, Red Deer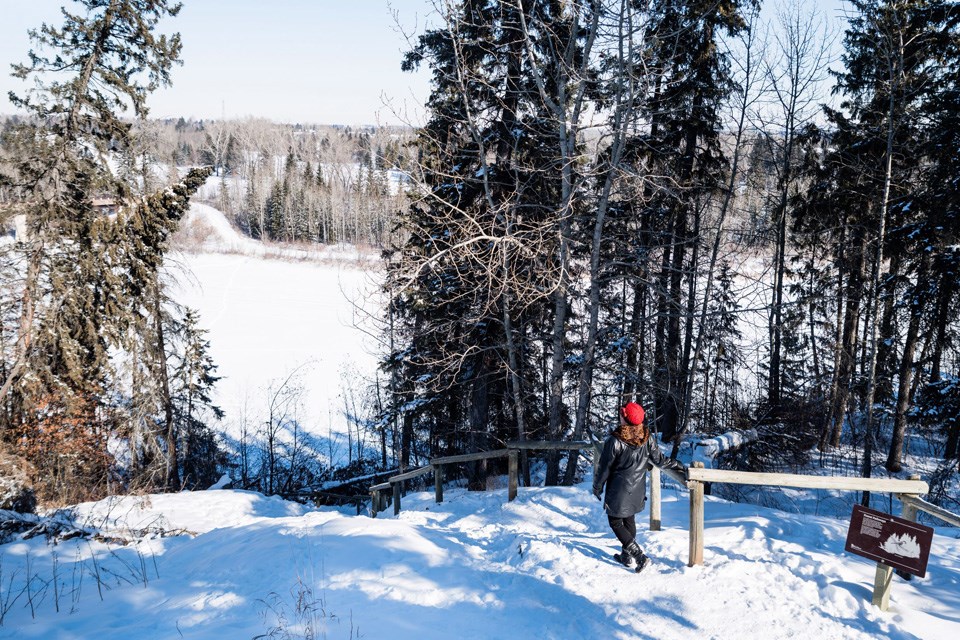 Discover the enchanting 4.5-km out-and-back trail near Red Deer, Alberta, which truly comes to life in the winter season. Widely regarded as an easy route, it typically takes around 1 hour and 4 minutes to complete, making it ideal for birding, cross-country skiing, and winter hiking. While it's a well-loved trail, you'll find moments of solitude during quieter times of the day. Open year-round, this trail transforms into a winter wonderland, offering a serene and picturesque experience. Bring your furry friends along, but make sure they're on a leash. As you approach the trail's end, you'll encounter a fantastic lookout point, complete with a viewing bench where you can sit and soak in the breathtaking scenery. Keep an eye out for the guest book tucked beneath the bench, offering a unique way to document your winter adventure. Be cautious, though, as the trail may become icy in the open areas when the sun shines, requiring proper winter footwear.
Sandy McNabb Interpretive Trail​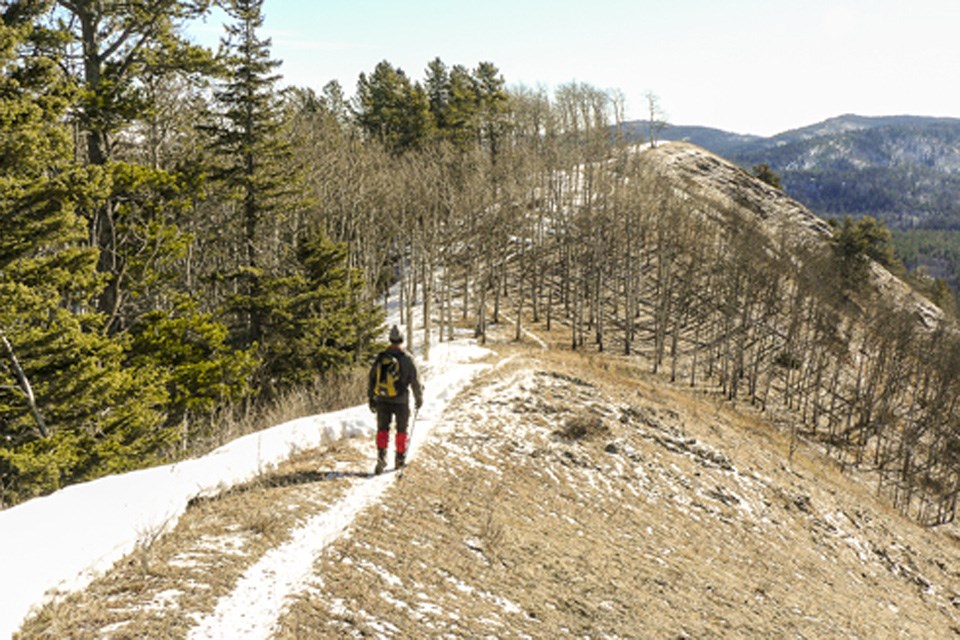 Nestled in the breathtaking Kananaskis region, the Sandy McNabb Interpretive Trail invites you to embrace the winter wonderland of this natural paradise. This scenic trail is a delightful stroll through a diverse landscape of mixed forests and meadows, offering captivating vistas of the Sheep River Valley. Begin your winter adventure at the trailhead, conveniently situated in the Sandy McNabb Campground area. This trail is perfect for families with young children or anyone seeking a quick and easy winter walk. Meandering through enchanting birch groves, it leads you on a magical journey through the forest before unveiling a mesmerizing panoramic view above the Sheep River. Along the way, you'll encounter charming wooden bridges and inviting benches at lookout points, making it a serene and enjoyable experience. For added fun, consider extending your outing by heading down to the river from the Sandy McNabb Campground.
Britanny Burr is a freelance writer and a contributor to Great West Media. This story was written for the 2023/24 Cool Winter Guide advertising feature. It is not written by and does not necessarily reflect the views of the editorial staff.