Watching TV next Monday night could have Okotoks residents recognizing some familiar faces.
The Selk family was flown out to Toronto last month to compete on Family Feud Canada. Their episode is set to air Sept. 26.
Kyla (Selk) Withers, who competed on the show with her father Jordi, brother Levi, husband Adam and sister-in-law Lara, said the experience on set was a whirlwind.
"Oh, it was wild. It was super fun, high energy. All the participants and all the production staff are just very fun, high energy," she said.
The family's journey to the show began three years ago when the Canadian edition of the popular TV game show began. But when the pandemic hit, the number of families selected outside of Greater Toronto decreased significantly.
Just when the Selks thought they were out of contention, Withers said they received a phone call requesting they come out east to compete for some cash.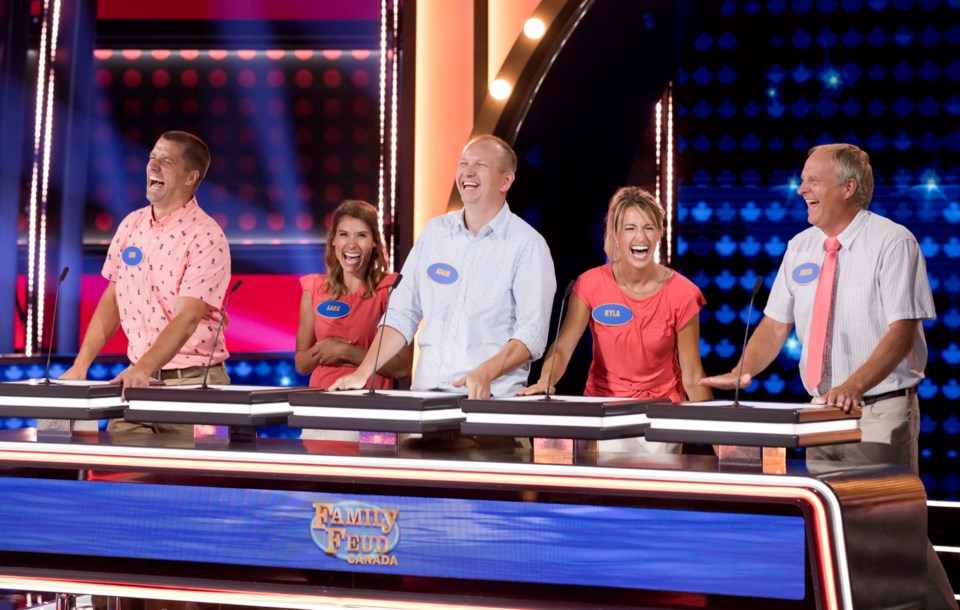 The family had been practising for years in anticipation of the moment, even recruiting friends and neighbours to stand in as host Gerry Dee.
"We practised and stood behind the couch and would buzzer ring," Withers said. "This has been a few years production as we try to up our game and get ready to go."
Practising and preparing was a fun way to bring the family together, she added, with the group spending the summer going over hundreds of questions and quizzing each other.
There are no hints to be had at the result of the Selks' run, which gives even more reason to tune in next week.
Withers said one of the questions they faced was particularly relevant to the place they call home.
"It's neat that we're able to represent Okotoks," she said.
Catch the Selk family competing on Family Feud Canada next Monday on CBC and CBC Gem at 7:30 p.m. MT.