How lucky are we to live in a place where people come from around the world to live, work, and explore? The Bow Valley is stunning and filled with opportunities for adventure. Beyond that, the communities are extraordinary, filled with athletes and artists, passionate travellers, and folks of all ages who have intentionally decided to build their lives here. Whether you're a newcomer to the Bow Valley or someone who's lived here for decades, you know this place is special, and you likely feel pretty lucky.
We're spotlighting a series of individuals who have travelled from around the globe to plant their roots in the Bow Valley. Today, we're chatting with Oliver Reeves, someone who made the journey from the U.K.–Kent, in the South East of England, to be specific–to land where he now called home, Canmore. Oliver has lived in Canmore for six years now. His story is one that he thinks might be pretty common. "I came here on a working holiday visa to experience living in the mountains and to improve my skiing," he told us. "Six years later, I'm still here."
Canmore has a unique way of drawing people in for the long haul. "It wasn't something I planned on at first," said Oliver. "I only intended to stay for one year, two max. When my original visa came close to expiring, I felt I wasn't ready to give up living here and waking up to see mountains every day."
He continued to explain that he got an exciting opportunity around that time. He was offered the opinion to stay on a different visa through his employer at the time. "This allowed me to eventually become eligible for permanent residence, which I subsequently ended up pursuing." He now has permanent residency and is enjoying a break from the stress of the application processes, though he knows he'll need to renew his PR for citizenship eventually.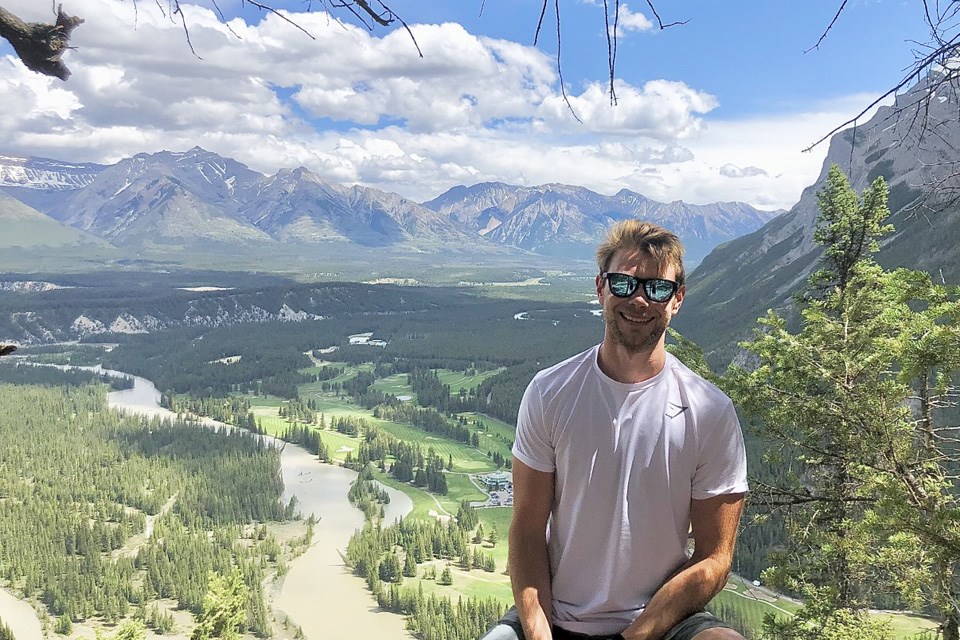 As with many of the folks we've chatted with, Oliver had several speedbumps and pain points throughout his application process. At one point, he had to leave the country without knowing if he could return to live and work here again. "It was a stressful experience, to say the least," he shared. Another thing he struggled with was being bound to one place of work. He wasn't able to get a second job at the time, and we all know that it can be costly to pay to live here.
"​​The PR process itself is generally stressful with the time, money and effort involved - and your potential future here coming down to a decision not made by you ultimately," Oliver told us. "The first time I applied for PR, my application was rejected even though I thought I had been extremely meticulous in my paperwork and application. I had to apply again and used an immigration lawyer," this is something we recommend as it can be really challenging for individuals to know what they're up against without the support of an expert. He found the process extremely stressful, noting that feeling out of control in regard to his own future, feeling unable to move ahead with his life while the process was pending, and not knowing where his long-term home might be were some of the more stressful parts of it all. Of course, he also noted that missing his family back in the U.K. was really weighing on him during this time.
Though, Oliver did say that "Without my workplace at the time of applying (Rocky Mountain Flatbread Co), I wouldn't have been able to apply for permanent residency in the first place, let alone the support they did offer me during this time. They were incredibly supportive."
While the process was long and strenuous, it didn't end up working out in Oliver's favour. "I have just finished working in a role in reservations at SkiBig3 in Banff. Prior to this, I have worked in hospitality most of the time I have been in the Bow Valley and will be starting a new exciting opportunity within this industry in the coming weeks," he told us. Prior to moving to the Bow Valley, he studied Psychology back in the U.K. "I had a stint working in clinical research and gained some experience in that field. I fully intended to go back and establish a career in this after my working holiday in Canada, but evidently, things ended up going in a slightly different direction, such is life," he explained. He is interested in pursuing this career path in the future, but for now, he's looking forward to his forthcoming new opportunity in the hospitality industry.
What brought Oliver here was the lifestyle he could achieve outside of work. "The natural beauty and scenery here go in hand with the lifestyle," he said, "being able to go skiing, hiking, biking, amongst many other things, in my spare time is pretty cool, and I doubt I would be doing these things back home." He also nodded to the people here, "Meeting other really interesting and like-minded people also makes living here a special experience."
Oliver is a perfect example of the difficult situations so many people have endured getting to the eventual destination of being able to comfortably work and live in the Bow Valley for the long term. You've likely seen Oliver around town, either while working or while playing shows with his band, The Bulldogs.

This story was made possible by our
Community Partners Program
. Thank you
Foothills Immigration Inc.
for helping to expand local news coverage in the Bow Valley.
Learn more.