There is nothing we love more than helping Albertans try new things and explore their province. Whether you're new to cross-country skiing or just on the hunt for accessible trails in Alberta, we've got you covered. We've rounded up a list of beautiful, fun trails that aren't too difficult so you can get your exercise and fresh air while enjoying yourself, imagine that. Here's what you need to know:
Pigeon Lake Provincial Park

Pigeon Lake Provincial Park is located within the County of Wetaskiwin on the southwestern shore of Pigeon Lake. The glorious Nordic ski trails weave through trees, meadows, and right along the lake shore. The trails are groomed and perfect for beginners. You don't have to worry about any big hills or tricky terrain. This accessible skiing area is the ideal place to enjoy a relaxing ski day on a (hopefully) bluebird winter day.
Queen Elizabeth Provincial Park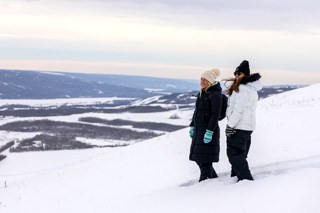 Located along the shores of Lac Cardinal near Grimshaw, Queen Elizabeth Provincial Park is a lovely destination home to over 140 species of birds and a ton of potential activities. Visitors enjoy everything from hiking and birdwatching to snowshoeing and cross-country skiing in the winter. While these trails aren't groomed, they only span about 4.5 km, so you can keep your outing short and sweet.
West Bragg Creek
West Bragg Creek offers 60 km of gorgeously groomed cross-country ski trails. Both classic and skate skiers and welcome, and there are routes suitable for all levels. You can't go wrong from short loops under 2 km all the way up to long loops over 15 km—the perfect retreat from the city without having to drive all day.
The Pembina Nordic Ski Club
The Pembina Nordic Ski Club is located in the Eagle Point Provincial Park in Drayton Valley. You'll find 20 km of classic and skate ski trails groomed to perfection. The trails run along the North Saskatchewan River Valley, offering spectacular views while you ski your heart out. There's also a warming shelter for you to stop for a quick rest and warm up.
The Canmore Nordic Centre
The Canmore Nordic Centre is a provincial park in Alberta that offers more than 65 km of groomed trails. There are even 6.5 km of illuminated trails if you'd like to get a nighttime ski in. Located in the beautiful Rocky Mountains, this place is truly awe-inspiring. While countless Olympians have trained here, there are also tons of trails perfect for beginners and families.
Cypress Hills Provincial Park

Cypress Hills Provincial Park spans the South East Corner of Alberta and the South West corner of Saskatchewan. It's a perfect place to relax and enjoy many different forms of recreation. Of course, that includes cross-country skiing. There is 30 km of trails that are perfect for all levels. There are also non-groomed backcountry ski trails for you to enjoy if you want to walk a little more on the wild side.
Britanny Burr is a freelance writer and a contributor to Great West Media. This story was written for the 2022/23 Cool Winter Guide advertising feature. It is not written by and does not necessarily reflect the views of the editorial staff.