A majority of Canadians say it's time to end all COVID-19 restrictions and let Canadians manage their own level of risk, according to a new survey released by the Angus Reid Institute on Monday.
According to the survey, 54% of Canadians say it's time to remove restrictions, up 15 percentage points over the last two weeks since the question was posed in early January, the Institute reported.
According to the Institute, a majority in every region other than Atlantic Canada "feel the time is now to open things up."
"If Omicron cases have indeed ebbed, it has many Canadians asking what is next," the Institute noted in a release.
"Vigilance is the request from public health officials – though plans for vaccination proof have begun to diverge, with some provinces removing requirements and restrictions. The public sentiment appears to be moving in the direction of opening up communities."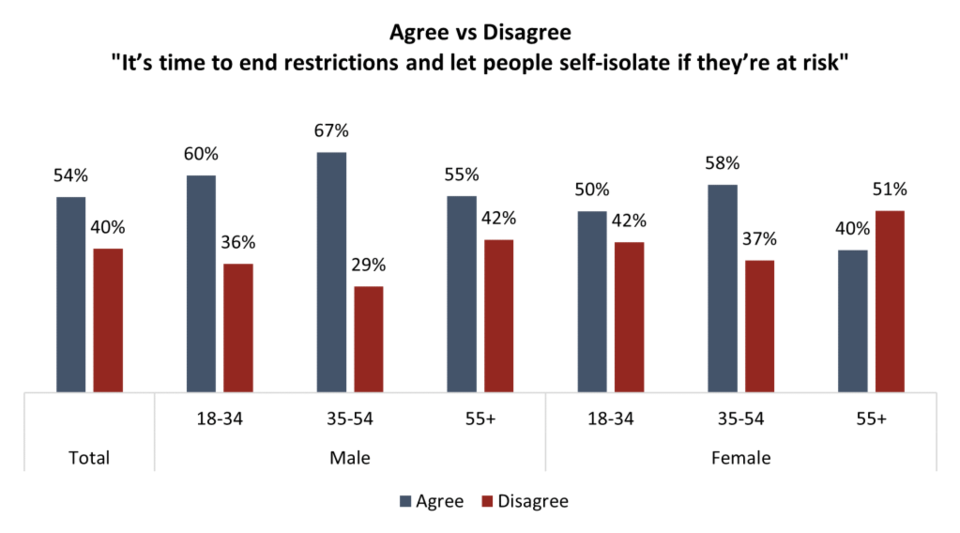 The survey was conducted online from Jan. 27 to 28, and also found one-in-five households have had at least one case of COVID-19 since December 1.
A majority of men and women aged 18 to 54 agreed that restrictions should end, according to the survey results.
At least 34% in every region disagreed with the idea, with the lone majority-dissenting age and gender group being women over the age of 54, the Institute noted.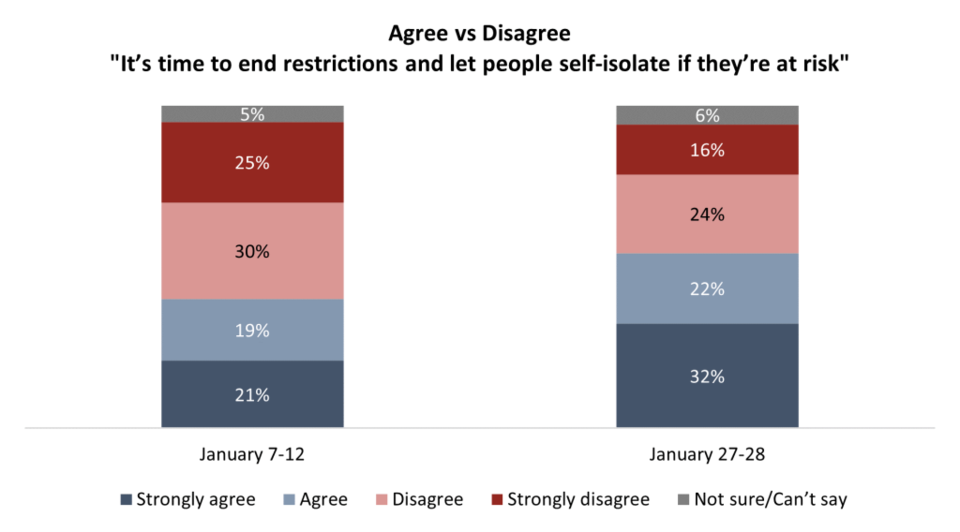 Among the other key findings of the survey:
Household infection is reported at the highest levels in Quebec and the lowest levels in Atlantic Canada, both of which align with data submitted by provincial governments

Testing levels for low-income households are significantly lower than those with higher household income levels. Additionally, British Columbia lags behind the rest of the country in testing, with just one-quarter of adults reporting having taken a test since December 1. The national average is 42%
The Institute says its online survey is a randomized sample of 1,688 Canadian adults, and has a margin of error of +/- 2.5 percentage points, 19 times out of 20.
Read the full report, including detailed tables and methodology, by clicking here.
---
Email Managing Editor Matt Preprost at [email protected]