HBO's blockbuster TV series The Last of Us debuted Jan. 15, showing a world devastated by a human-adapted variant of Cordyceps, a fungus that infects and takes over its host's neurological functions.
The show centres on protagonists Joel and Ellie, played by Pedro Pascal and Bella Ramsey, making their way west from Boston through the diverse scenery and historic locations provided by southern Alberta.
(SPOILERS BELOW)
Check out below to see where your community pops up in the show. Open the map's menu to show previous episodes' locations.
Episode 1 - When You're Lost in the Darkness
The series opens on the quiet High River cul de sac of Sullivan Road, playing home to Joel and Sarah Miller, as well as Joel's brother Tommy (Gabriel Luna).
Calgary's Western Canada and Lord Shaughnessy High Schools play the interior and exterior of Sarah's school in Austin, TX, before she heads to get her dad's watch fixed at Lone Star Watch Repair and Jewelry, with Fort Macleod's Don's Barber Shop in the other half of the building.
As they flee into the night in Tommy's pickup, they take the turn from 498 Avenue eastbound before taking the on-ramp toward southbound Highway 2, which poses as a clogged freeway leading to a military checkpoint before the trio off-road it back to town.
Fort Macleod returns to centre stage, featuring prominently as a stand-in for an Austin, TX descending into chaos. Along with most of the familiar main drag, Johnny's Restaurant and the distinct frontage of Samuel Roland Antiques can be spotted as the Millers attempt to escape the chaos.
The iconic Evelyn's Memory Lane Diner in High River was still distinctly recognizable where Joel and Sarah Miller are chased through a restaurant by a Cordyceps-infected zombie.
Evelyn's owner David Poudrier assumed ownership of the diner in September 2022, after the film location deal had been struck, but as a fan of the games was all too happy to see it through.
"I played the game back in 2014, it was a great story," said Poudrier. "Watching the show – and actually I saw the clip before I saw the show – I'm like 'Oh my god that's here' so we all screamed, it was so amazing.
"Keeping up with the show, it's a great show, it's a good story; they're following along as closely as they need to."
A few modifications are visible, and anyone who's stopped in for a slice of pie might notice a few differences, as film crews actually walled up the front of the diner's glass facade, with Joel carrying Sarah in through an unseen door where the real life diner's drink cooler is.
Inglewood and other areas of downtown Calgary play the Boston Quaratine Zone, which in the series is controlled by the Federal Disasater Response Agency (FEDRA), a militant remnant of the US government exerting control over the remaining survivors in its thrall.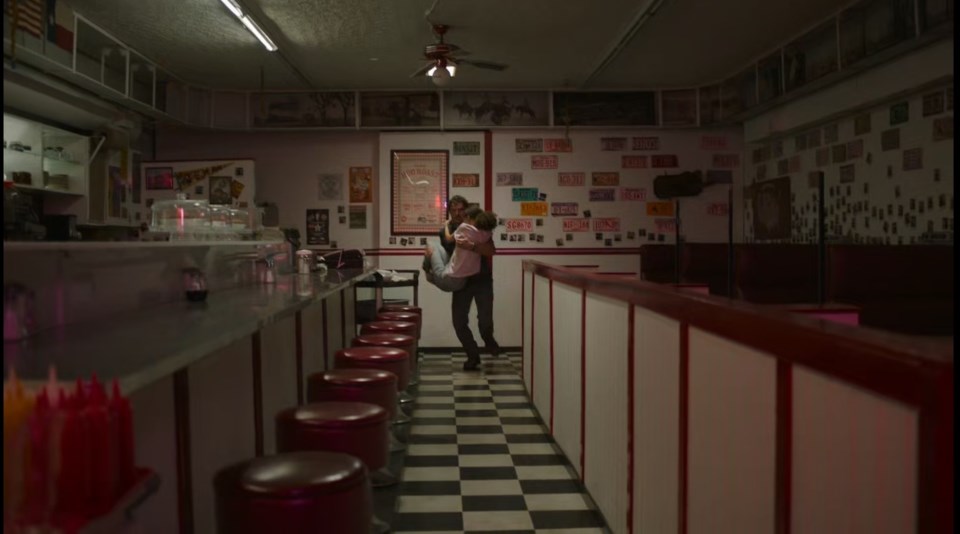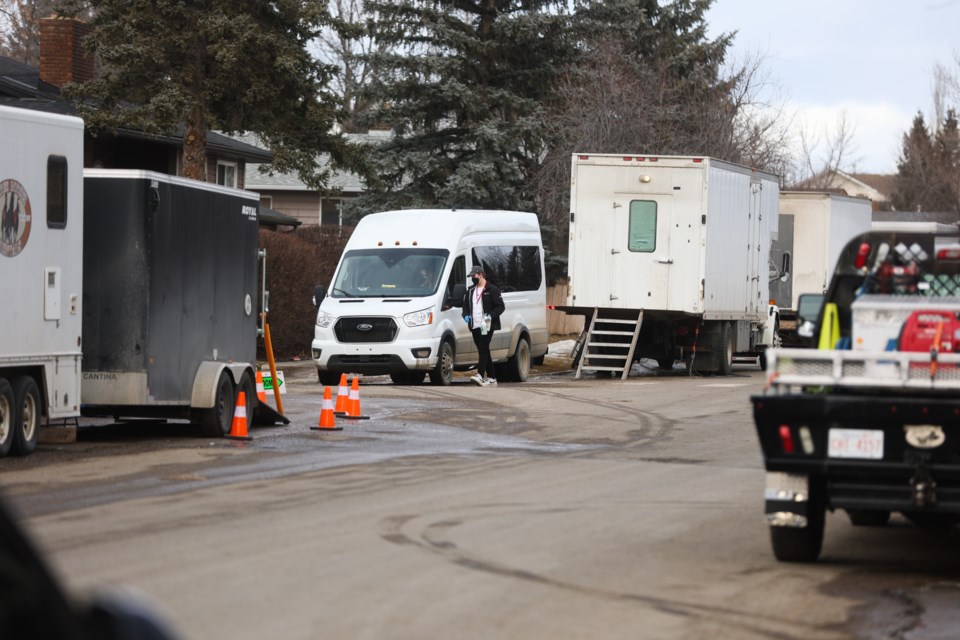 Episode 2 - Infected
Episode 2 features more of Calgary with the 4th Avenue Fly-Over looking only slightly worse than the average morning rush hour. Inglewood and Ramsay, along with other historic buildings of the downtown and Beltline feature during scenes in the Boston Quarantine Zone.
Centre Street's Pho Anh Huyen Vietnamese Noodle House also makes it into the opening of the second episode as a restaurant in Indonesia.
SAIT's Senator Burns Building shines as the Indonesian Ministry of Health (Kementerian Kesehatan) building hallways, with hallways and lounge visible in the first few minutes of Episode 102 before scientist Ratna Pertiwi first sees Patient Zero of the Cordyceps infection.
Edmonton also steps in with locations along various urban streets to illustrate the decline of human civilization as characters Joel, Ellie, and Tess continue on their journey. The trio arrive at the Boston Capitol, with the Alberta Legislature Building acting as a stand-in. There the protagonists encounter hoards of fungal zombies before an explosive end to the episode.
Episode 3 - Long, Long Time
Episode 3 opens with Joel and Ellie waking up to scenic views of Kananaskis, specifically Sheep River Falls west of Diamond Valley (formerly Black Diamond and Turner Valley) on Highway 546. The scene is fittingly Ellie's first time experiencing nature outside of the Boston Quarantine Zone. The locations weren't without foibles, with the boreal forest region subtitled as '10 Miles West of Boston', which had fans familiar with either area calling it out on Twitter. Also, nature had more bugs than Ellie expected.
As the pair make their way further from Boston, they walk through grasslands bordering woods and wetlands, distinct views provided by the Ann & Sandy Cross Conservation Area, a popular hiking spot off Highway 22X in northwest Foothills County.
The west end of Fish Creek Park near Shannon Terrace also played a part, with a stone bridge.
Anyone frequenting Highway 22 might recognize the Priddis General Store, looking a little worse for wear as Joel stops to unearth a supply cache.
As the episode shifted its focus from the two main characters, it introduced Bill, played by Nick Offerman, a survivalist/prepper type who hid out as residents were trucked away.
The bucolic hamlet that slowly transforms into Bill's Town was provided by Beechwood, an abandoned residential development built on a flood plain along the Highwood River in southwest High River. In reality, its residents have long since fled the cluster of homes after the government bought them out following the 2013 floods.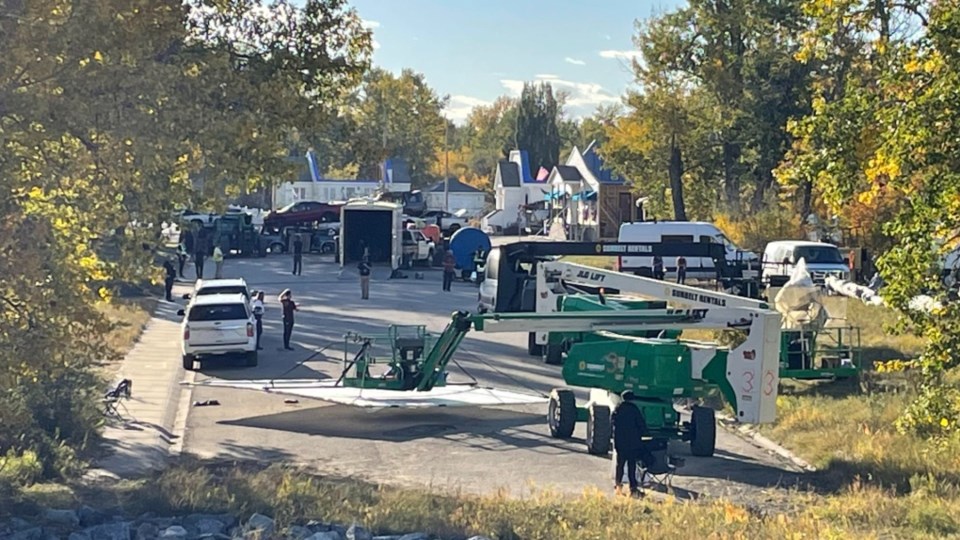 Kicking his plans into gear Bill turns his gas back on at what in reality is the Mazeppa Gas Plant east of High River.
Following that he plunders a boarded up Home Depot, built into the recently closed Zellers Target Lowes Home Improvement store in the Shawnessy commercial area of Calgary. Ironically, the real Home Depot is just down the street.
Eventually Bill lowers his defences – literally and figuratively – for Frank (Murray Bartlett), a survivor that turns up in one of his traps.
Episode 4 - Please Hold My Hand
Episode 4 begins with the two protagonists continuing west, pulling the road for an evening, with areas west of Calgary near Strathmore, as well as the High Level Bridge near Lethbridge being used. A herd of buffalo mill about in a field near Priddis as the road trip continbues and Joel is subjected to top-notch dad jokes by Ellie. Arriving at Kansas city, the pair approach a blocked freeway tunnel, which in reality is the Calgary airport tunnel.
Making their way around, they're funnelled into the city and beset by bandits, Calgary's city streets and alleyways become the backdrop for a shootout that takes Bill's pickup out of commission. The audience is introduced to Kathleen, the hardened freedom fighter who led the seizure of control of Kansas City from FEDRA.
A manhunt ensues for the two after the bandits' bodies are found. The duo find their way to an abandoned office tower, provided by Calgary's abundant office space, where they hole up for the evening before a rude awakening.
Episode 5 - Endure and Survive
Episode 5 opens back up in Kansas City, and following a flashback to the overturning of FEDRA control and insurgents instituting freedom via lynchings and firing squads. As the background stories on Henry and Sam are established, the story catches up to where Episode 4 left off.
Plotting their escape from Kansas, Henry maps a route through utility tunnels (filmed at Mount Royal University) outside of the perimeter held by the freedom fighters. The climactic scene was shot on a purpose-built set at the state-of-the-art Calgary Film Centre, ripe for destruction and mayhem.
Joel, Ellie, Sam and Henry make it to safety at a rural motel, played by Nanton's Ranchland Inn. A slightly defaced UFA (United Farmers of Alberta) sign can be seen toward the end of the episode.
Asking the important questions in #TheLastofUs Season 1, Episode 5 #ExploreAlberta pic.twitter.com/k50dsttqHv

— Keep Alberta Rolling 🎥✨ (@KeepABRolling) February 15, 2023
Episode 6 - Kin
The Canadian Rockies got their time to shine as Joel and Ellie reach Wyoming.
After a brief, slightly absurd encounter with two homesteaders, played by Graham Greene and Elaine Miles, at real-life CL Ranches, the two make their way toward the 'River of Death' they were warned not to cross.
The crossing just happens to be the Canmore Engine Bridge. Those watching closely during the wide overhead shot were able to spot crew members in the bottom right of the frame.
The Stoney Nakoda First Nation hosted the production, with various locations in the countryside and along the Bow River shown.
Making their way, the two are surrounded by people on horseback, who after a tense exchange bring them back to a large walled-in Jackson, Wyoming, and the timber gates swing open to reveal what is actually Canmore's Main Street.
Previously reported by the Rocky Mountain Outlook, the Town of Canmore saw a $325,000 windfall from hosting the HBO production.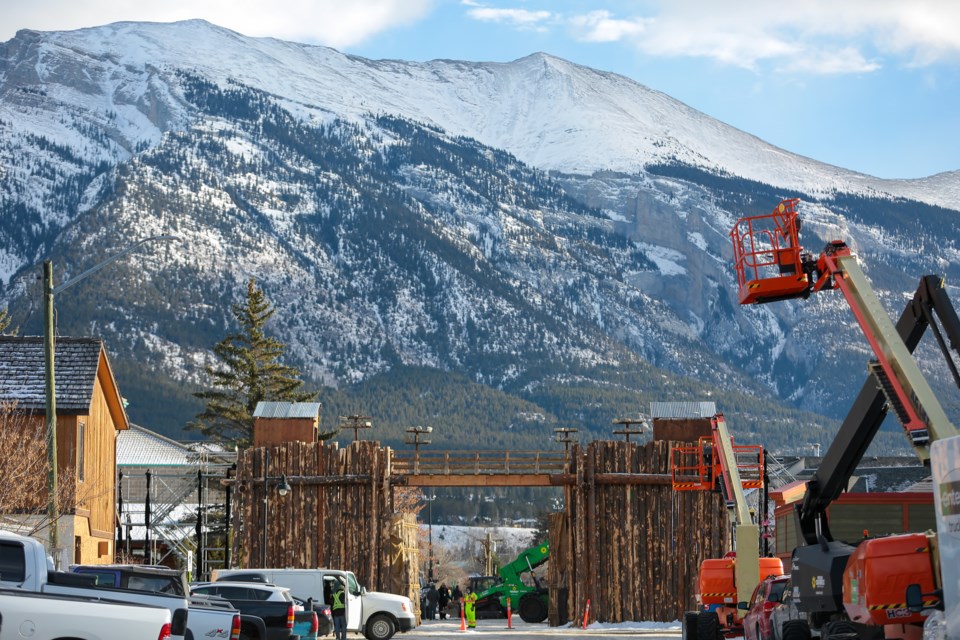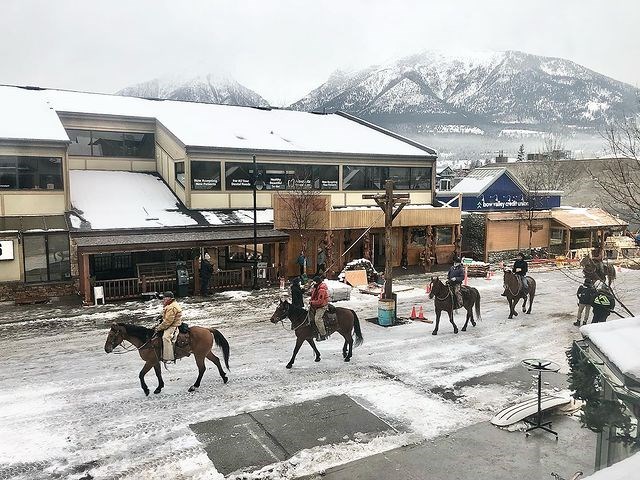 The protagonists are treated to a proper meal in what is actually Willow Lane Barn in Olds, Alta., an events and wedding venue, and after that, a reunited Joel and Tommy share a drink in the Wainwright Hotel, located at Heritage Park Historical Village.
The two are given a home to stay the night at 14 Street in Canmore before departing the enclave.
Joel and Ellie make their way down the I-25 to the University of Eastern Colorado in Boulder, which in reality is a mixture of the Southern Alberta Institute of Technology (SAIT) and Mount Royal University in Calgary.
They arrive on horseback coming in from real-life Dr. Carpenter Circle, looking from below the SAIT parking garage up to the stately sandstone Heritage Hall.
Approaching up the centre walkway, they traverse the corridor between the central Stan Grad Centre (built onto the back of Heritage Hall) and the Eugene Coste Building. This is where a video emerged where students studying in SAIT's library were able to spot the two on horseback, with Pedro Pascal shooting sly look at the spectators.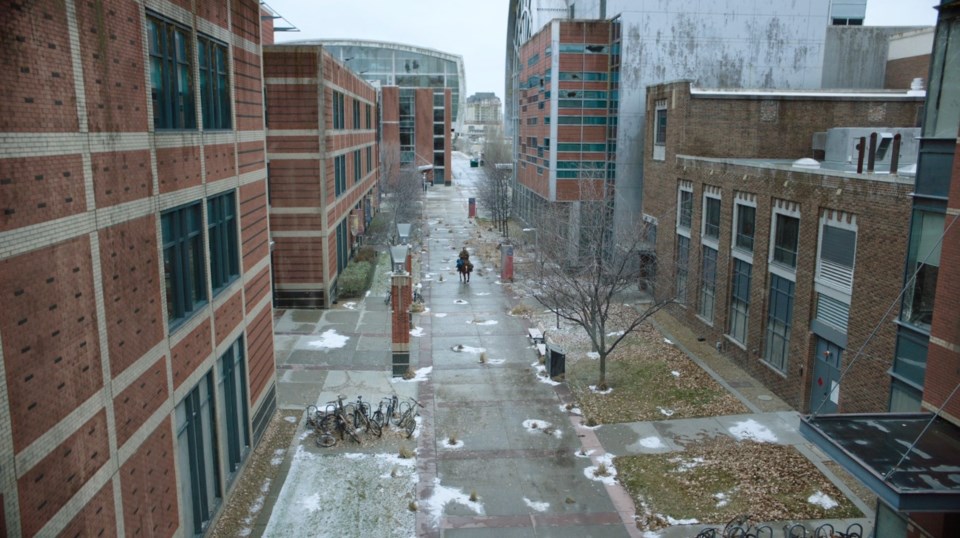 Further into the campus quad, Mount Royal's Kirby Hall stands in as the Biomedical Sciences Building, with MRU logo and signage still visible in a few background shots.
While Okotoks played host to the production, with crews rolling into the Suntree neighbourhood in February of 2022, those scenes have yet to pop up in the show. As well, Canmore and Banff hosted production crews, likely figuring into the picture soon as Joel and Ellie get further west.
Spot something we missed? Let us know and we'll add it in.
Television screenshots/frames used under Fair Dealing section 29.2 of Canadian Copyright Act.
Great West Media does not condone nor advise trespassing on private residences or private property.